Eye For Film >> Movies >> Arrhythmia (2017) Film Review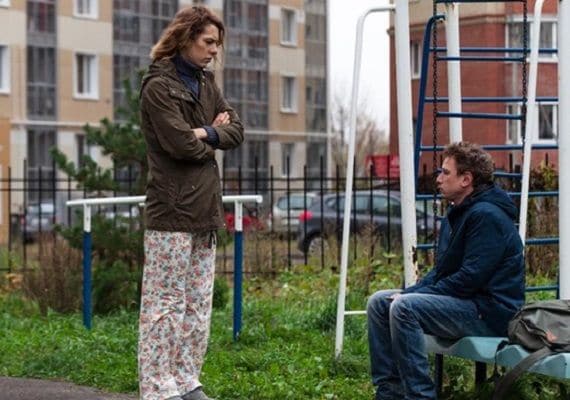 There have been other tales of paramedics facing adversity in eastern Europe, most notably The Death Of Mr Lazarescu and Sofia's Last Ambulance, but while Boris Khlebnikov embeds his relationship drama firmly in this battle-zone backdrop - ensuring considerable friendly fire - it's the potential failure of the marriage, rather than the failure of the healthcare system that drives the drama.
This is not to say that the stresses and strains of work for husband and wife Oleg (Alexander Yatsenko) and Katya (Irina Gorbacheva) aren't a contributory factor in their woes. He is a paramedic, zipping around the city with his team, his patient care fuelled by the twin engines of good bedside manner and quick wittedness, that can see him hand out a placebo as quickly as a life-saving drug. This is one of his A games. His other A game, unfortunately, is alcohol and lashings of it, a habit that brings out a wide streak of selfishness and self-pity which Katya, who also faces work pressures in her role as a junior doctor, is growing tired of.

"I've already been sober for 30 minutes," Oleg tells her, wrestling open a carton of wine as they head to celebrate her father's birthday. Everything about the way Khlebnikov and his co-writer Natalya Meshchaninova set up the film, leads us to see how routine this is for the pair. from the overwork, to the partying too hard and the heartfelt but empty morning-after apologies. So it is little surprise when Katya texts him to say she wants a divorce.
Breaking up, however, proves hard to do, as Oleg seems in no hurry to exit their shared tiny apartment, evenings of alcohol with friends still proving the norm and the air mattress in the kitchen little more than a gesture. Khlebnikov and Meschchaninova capture the essence of long-term relationships at the point when the firework bursts of highs and lows have been replaced by the dripping tap of minor annoyances that are becoming harder to ignore, yet the urge to kiss and make up is still dominant.
Oleg's job provides stark contrast, there he is alert to the slightest change, while at home he takes obliviousness to the brink of his own abyss. "Then this happened," he tells Katya, in one of his more plaintive, hangdog moments, as though the drinking was something as unavoidable as a traffic jam on the ambulance route.
Yatsenko brings a puckishness to Oleg so that, even at his most reprehensible, we can still see what drew Katya to him, his apologies carrying a childishness that is annoying and sweet in almost equal measure. Gorbacheva, although acting as his foil, also brings considerable nuance to her side of the bargain, as frustration and anger vie with the desire for reconciliation.
Khlebnikov maintains a balance, weaving their story in and out of the more familiar procedural elements of the tale, as Oleg starts to kick against the prescriptive quotas handed down at work. There is serious social commentary here, about the idea of making life or death decisions fit into a predetermined time-slot and work woes trickling down through lives, but they are handled with a lightness of touch and humanism, the humour serving as a repeated shot of adrenaline to stop the stop the story wallowing too long. The prognosis for Oleg and Katya may be hard to determine but the film's heart is definitely in the right place.
Reviewed on: 25 Oct 2017
Share this with others on...