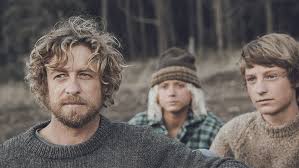 "Take a deep breath. Pick yourself up. And start all over again" sings Fred Astaire in Swing Time about the "famous men who had to fall to rise again." Astaire didn't mean surfing but Simon Baker's beautifully subtle film adaptation, co-written with Gerard Lee of Tim Winton's novel, is all about that deep breath following failure or disappointment.
In his feature directorial début, The Mentalist star doesn't hold back. He is hell-bent on truth and grace and tragedy and the white-cresting joy of being gloriously alive in the hug of an ocean wave. People who feel they have nothing to lose can make for dangerously captivating friends. Death and water in the old romantic tradition swim together hand in hand.

The first images of Breath are as beguiling as they are bewildering. Two bodies float underwater. Two boys? A boy and a girl? A boy and a mermaid? A merman? Are they alive or drowned or deathless? Cinematography, in (by Rick Rifici) and out of the water (Marden Dean) and the production design by Steven Jones-Evans, locate us firmly in a time and place and together help to set the tone, with an irresistible touch of wistfulness, that opens up our hearts to follow the tale being told.
Pikelet (Samson Coulter) and Loonie (Ben Spence) live in a small, spread out Western Australian coastal community in the 1970s. The unspoken trade between the friends - although a lot is shared verbally with each other while they ride their bikes - is this: I give you some of my stability, you give me a hunk of freedom. And vice versa.
Sando (Simon Baker), a surfing champion, resides in what could be described as an enchanted, slightly disheveled tree house for grown-ups with his girlfriend Eva (Elizabeth Debicki), a former professional skier and their unwavering dog Rooster. Pikelet and Loonie are fascinated by Sando's world, as both see in him an alternative to their respective fathers. Mr. Pike (Richard Roxburgh) likes to pot plants, whereas Loonie's dad (Jacek Koman) has a cruel streak that puts him in an altogether more hazardous category.
"Surrender is what frees you up," Sando teaches them, while he himself, as it turns out, can only follow through with his own maxim to a certain extent. When you live your life "like someone who didn't believe in death," a structural switch occurs. For a film so deeply planted in the implications of the concrete - from hand-knit sweaters (the gray one by Baker's mother), to dusty trucks, to the plastic bag tucked under the bed - Breath gives extraordinary pointers to explore abstract concepts of what it means to become a man.
The splendid costume design by Terri Lamera retains the fine balance between veracity, desire (some of the pullovers could be Elder Statesman) and metaphor. A hole in Sando's suede jacket becomes visible to us just at the moment his young pals, definitely one of them, discover their idol's imperfection. His sheen is cracked. The façade cannot hold. This fragile deal only functioned for a while.
Samson Coulter and Ben Spence give startling, intensely physical performances. During dinner at his friend's house, Loonie eats so voraciously and drinks his milk with such fervour as though he wanted to absorb years of family life in one meal. He is a kid starving for affection. Love me, take care of me, I'm dangerous, don't hurt me anymore - his body language shouts out into the world. On the other end of the friendship is Pikelet who feels stifled by what he perceives as the blandness, staleness and conventionality of his home.
Simon Baker's directing heart beats for authenticity. Riding bikes on dusty roads, catching waves among presupposed sharks, and growing up to become a man - large universal truths peek out from underneath the realism in depicting the boys' lives. This is a story of fathers and sons, friendships and betrayals, boredom and excitement, sea monsters and seduction, choosing who one wants to be like and the very different process of becoming it.
Much is communicated by a well-placed gesture, the choice of a cup, a nap on the veranda or a fishing trip declined only to later be accepted. Breath discerningly doesn't shy away from the tragic dimension we sense from the very first shot but for whose confirmation we have to wait until the final die is cast.
Reviewed on: 29 May 2018
Share this with others on...