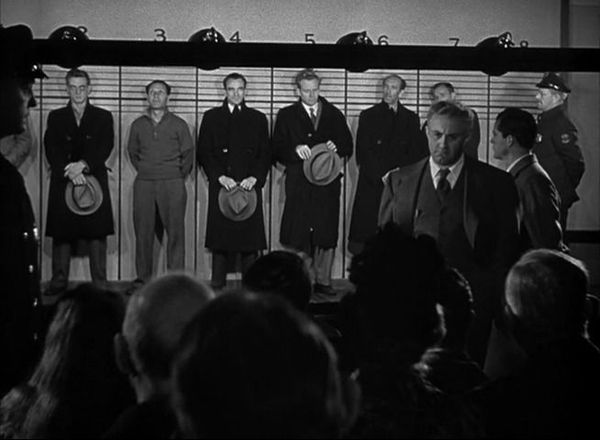 Eureka! Entertainment are carrying on with their mission to please film aficionados everywhere via their Masters of Cinema remastered releases, this month bringing out the 1947 docu-noir feature Boomerang.
It is one of the early films helmed by method actor director Elia Kazan (On The Waterfront) and was one of the early American entries into the Cannes Film Festival back in 1947 as well as winning awards on its own turf at the New York Film Critics Circle and the National Board of Review. I can happily report that this crime/noir/procedural still feels fresh today, high-definition bluray remastering regardless. The chilling real-world controversies Kazan's film deals with are worthy of any ambitious cable crime series today (such as The Wire): political corruption and backroom deals, idealism versus career, cynical media-induced hysteria, the interplay behind the scenes of politics and big business, and most of all, the perversion of the justice system because of all of this.

Kazan adds authenticity and grit to the proceedings by steering his cast away from heightened performances and melodrama, using a semi-documentary approach and relying on a group of actors who effectively convey the world weariness, casual deviousness and embattled high-mindedness of the parties involved. This film packs the veterans in: Dana Andrews, Lee J Cobb, Jane Wyatt, Arthur Kennedy and Karl Malden.
This hard-boiled tale, written by Richard Murphy and based on a factual event, focuses on a small Connecticut town (which only seems quiet and sunny on the outside) thrown out of joint by the brutal gun murder of a local priest. Days pass, and the police investigation turns up nothing. Before long, sombre veteran prosecutor Henry Harvey (Andrews) and his friend the careworn but committed Chief Robinson (Cobb) are feeling the heat from the Commissioner and the Mayor, not to mention the press. Gossip, whispers and lies begin to fly about the town. When the cops bring in their key suspect, a disillusioned veteran called Waldron (Kennedy), there is a palpable sense of relief as Robinson wrings a confession out of him. But when Harvey sensationally refuses to press the case against the man in court, having become convinced of his innocence, public rage, fears for his career, and blackmail threats from certain interests who want the case closed threaten to overwhelm him and everything he stands for.
Like the later film Twelve Angry Men this is a gripping and angry cautionary tale about the dangers in taking the justice system, and one's own perceptions, for granted. It is also a cynical look at the festering viciousness that can lie hidden in a twee small town. Performances in particular to watch out for are Andrews and Cobb as old friends who are principled in different ways, but pushed to breaking point when they end up on opposite sides of the prosecution.
Reviewed on: 26 May 2014
Share this with others on...