Eye For Film >> Movies >> Black November (2012) Film Review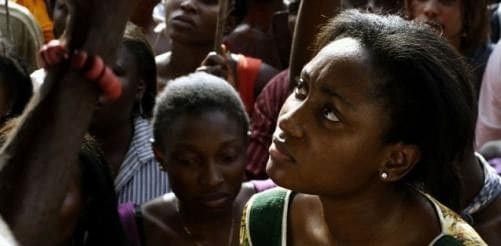 One of the first things one notices about this film is how little its star features in its promotional materials (with the exception of one poster), but such are the politics of US/Nigerian interaction and the themes this film deals with. Mbong Amata plays, appropriately enough, a humble woman - Ebiere Perema - who shuns publicity but whose political actions place her in the spotlight anyway. It's a dangerous place to be. As a movement grows around her, resisting the incursions of US-owned oil companies, government corruption sees her placed on a watch list. With militant resistance developing in parallel to her peaceful work, she increasingly finds herself a target of state-backed violence, and there may be no way out.
The central part of this film, albeit differently edited, was released in 2010 under the title Black Gold but struggled to attract international attention. Director Jeta Amata (Mbong's husband) has tried to remedy this by adding Hollywood stars and beefing up the role of the American characters, even to the point where it's implied that one of the oil executives responsible might achieve some form of redemption (though Mickey Rourke, not on best form, doesn't really pull this off). So we begin with Rourke's character and Kim Basinger's curiously naive TV reporter being kidnapped and held hostage in a US car park in order to draw attention to Ebiere's plight. In scenes notably devoid of tension, the kidnappers negotiate the chance to tell her story on air.

With the new stars getting little screen time, the film risks disappointing fans, but it's the Nigerian section where the meat of it is. Mbong's powerful performance anchors it, building up force as Ebiere metamorphoses from a bystander into a figure of action. When a sentimental soundtrack (the only real reminder of Jeta's Nollywood roots) threatens to overwhelm it, she keeps us focused on her character and on the important social and political narratives underneath this layer of syrup.
A bit of historical context might have been useful for those not familiar with how Nigeria's oil exploitation developed post-colonialism. The risk the film faces is that the dynamics of this particular struggle, still pertinent today, will be lost in the familiarity of the little people against the system narrative, but at the same time that narrative will help people around the world relate to the story. It's difficult to shock with a tale of abusive rich people, and too often the film feels preachy, but Mbong succeeds in making us care about Ebiere's plight regardless. Meanwhile, the presence of the militants, attractive in their moral simplicity but vulnerable in their political simplicity, adds depth to the story, though they work markedly better in the Nigerian than in the US-set scenes.
An awkward but valuable attempt to reach out with a story too easily ignored or taken for granted in the West, Black November isn't really strong enough to succeed in its ambitions but its solid core shows that Jeta Amata may well have the potential to break through with his next film.
Reviewed on: 08 Jan 2015
Share this with others on...