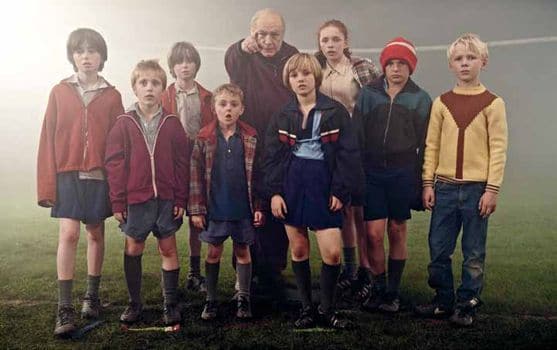 On the 6th of February, 1968, a plane leaving Munich airport skidded on a slushy runway, lost balance and crashed. 20 people died, including most of Manchester United football team. The two players who survived were so severely injured that they never played again. Only their manager, Matt Busby, made anything approaching a full recovery. He remained devoted to football throughout his life and, in particular, to helping kids use it as an escape from poverty. This film takes that premise and runs with it, telling the story of a boy who dreams of playing like Pele but would settle for winning the local Junior Cup. He just needs the right coach to shape up his game - and his life.
Characters like Busby don't come along very often; it's difficult to tell their stories without spilling into eulogy. Screenwriters Massimiliano Durante, Carmelo Pennisi and David Scheinmann don't even try. Thankfully, Brian Cox is on hand, stemming the tide of sentiment as best he can and delivering a solid performance that grounds a film otherwise away with the fairies. The acting, in fact, is fairly solid all round, and young Jack Smith does a good job in the lead, albeit with some judicious cutting around his emotional scenes. His Georgie is a gifted kid whose mum desperately wants him to get into a grammar school and have a real chance in life, but who risks getting into trouble with the law as he'll do anything to pursue his dream. Meanwhile, his ragtag team are in need of some serious training. They also need to stop resisting the help of a Token Girl, who has the dual advantages of being a better player and about a foot taller than the rest of them.

That the film is overdone goes without saying, but much of this can be forgiven if one accepts that it's aimed at young kids - parents whose eight-year-olds have just gone crazy watching their first World Cup would be well advised to take them along, as they'll probably love it. Even kids, however, will probably struggle with the logic of Georgie's change of heart, which happens right on cue, 20 minutes before the end. Will he realise his mistake in time? Can he return and lead his team to victory? Maybe so, but the set-up for this process is painfully clumsy and never manages to convince.
The film's other problem is a common one in low budget Brit-flicks. Not confident in its own identity, it's simply trying too hard. It desperately wants to be This Is England, signposting this in everything from its backstory to its choice of Smiths songs. Needless to say, it doesn't come close, and so it ends up looking like a second rate version of something else instead of doing its own thing. It also suffers from a lack of confidence in its direction, especially in the football match scenes, where constant cutting suggests it's covering up for hopeless players, when in fact its young cast were mostly selected from junior football clubs. There's a failure to understand what football fans want to see. More important than brilliance is the interaction of the players, the sense of movement, the connection between boy (or Token Girl) and ball. With that missing, the film ends up feeling hollow.
As a tribute to Busby, this film is sweet but way too heavy handed, despite the class Cox brings to it. As a kids' flick, it just about works - but be warned, if you do fork out for tickets, you'll end up having to pay for a full football kit as well before the week is out.
Reviewed on: 19 Jul 2014
Share this with others on...