Eye For Film >> Movies >> Bagdad Cafe (1987) Film Review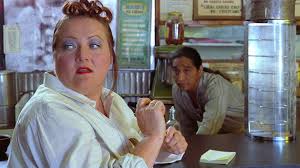 Beside the desert highway between Las Vegas and nowhere Brenda runs a truck stop motel diner. She is fraught, frantic and stressed to the edge. Her husband keeps forgetting the orders, especially the new coffee machine. Her teenage daughter hooks up with bikers and truckers and anyone with wheels. Her 19-year-old son plays Bach in the back on an old piano. He has a kid although looks too young to be a daddy. As for the baby's mummy bear, she's hibernating in someone else's history.
Behind the bar is a Native American who never speaks but has a heart of gold and the only long term residents of the motel, a wind trashed sandy collection of rooms beside a faded blue caravan, are a retired set painter from Hollywood (Jack Palance) who dresses like a rhinestone cowboy and a beautiful effete tattoo artist (Christine Kaufmann) who sits in a wicker chair reading Death In Venice.

Into this dysfunctional hive of eccentric lost souls arrives Jasmine (Marianne Sägebrecht), a large German lady, wearing a smart outfit better suited for a stroll in the Bavarian foothills. After a violent row with her brute of a husband in their hire car she takes to the open road with a heavy suitcase, which turns out to be his. and walks in the blistering sun all the way to Brenda's Bagdad.
It is hard to imagine from this scrap of a synopsis how the film has become a European classic and given writer/director Percy Adlon a place on the high table at Cannes. The plot is simple, the camera angles less so. It's about community, it's about friendship. Brenda hates change, hates order, hates anyone interfering with her business, even when it's falling apart. Jasmine has a strength of character that won't be bent to anyone's will, which does not mean she is dominating or demanding. The opposite is true. Quietly, with a delicate touch, she empathises with the frustrations and anguish of those around her, evolving from the open cast of a tired tourist to the life and loves of what becomes a magical Bagdad.
Although 30 years old the film has not aged a minute. Adlon's imaginative use of colour stands slide by slide with the beauty of these Nevada sunsets. The look is as unforgettable as the power that drives your emotional response. It may feel otherworldly to those from the urban plains but for the rest it remains grounded in Brenda's fierce commitment to her way or no way. She is the one and then Jasmine is the one and then they are the two together.
You cannot talk about Bagdad Cafe without staining its purity. It doesn't conform to any stereotype. Explanations, like rhubarb pie, tend to interfere with the gut. If you don't feel the warmth of tears on your cheeks you have Arctic blood.
There is always a moment, wherever it is and whoever claims it, that can never be changed, never bettered. They call it unique, quirky or something weird in a wonderful way. Such a moment comes rarely.
The cast is as close to perfection as chance allows. CCH Pounder as Brenda is an inspiration. Why she never became a star after this is a mystery. You will have to look hard to find another performance that comes close.
There is, however, a disappointment. The cover of the DVD is such a turn off it should be taken out with the garbage. Brenda would have something to say about that.
Reviewed on: 17 Aug 2018
Share this with others on...