Eye For Film >> Movies >> Bagdad Cafe (1987) DVD Review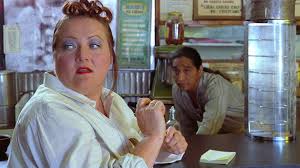 Concocting extras for a movie that came out before DVDs is a tricky one. They don't have any footage for a Behind The Scenes or Deleted section.
What to do?

1. Commentary with the leading lady and the director in German (subtitles). It is fairly obvious that Marianne Sägebrecht and Percy Adlon don't know how DVD commentaries work, like they are supposed to talk about scenes in the film as they appear. What these two do is have a conversation.
For example they talk about the stray dog (Baggy, after Bagdad)) that Marianne adopts, which is followed by the revelation that there is a Bagdad Cafe in Tel Aviv and practically everywhere in the world. The haunting song, Calling You, is discussed at length as is the casting of Jack Palance. "He didn't talk much to me," Marianne says. "He didn't talk much to me," Percy adds. He was not chosen because of his star quality. Percy admits he didn't know much about him but asked a friend in LA, "I need someone who smells of old Hollywood", and the friend suggested Jack. They described him as delicate and shy. "I said to him once, 'Inside you is a beautiful woman," Marianne says. "That frightened him."
She is hilarious about the dream sequence when she is seen naked in a huge pot with cannibals dancing about. Magic is important in the film and Marianne admits that she learnt every trick over a period of five months and they discuss the therapeutic benefits of magic for quite some time. They talk about boomerangs as well. Percy and his wife, who co-wrote the film, saw someone on TV throwing a boomerang across the heads of the audience in the studio and decided that would be good. They found a young guy who carved his own and brought him along. He wasn't an actor but he knew his boomerangs. They had problems, however, because of the wind.
Despite rarely connecting with the movie as it played, their conversation is never less than entertaining, thanks to their sense of humour and Marianne positive view of the world and her place in it.
2. Percy takes his wife and three granddaughters back to where the film was made. The cafe is there but the rest has gone. They call this section A Trip To Bagdad. Percy talks a bit about making the film while the teenage girls, who seem intelligent and so much fun, as well as beautiful in that youthful I-can-live-forever kind of way, fool about. Salvador Dali had a thing about yellow and so Percy decided that this would be his primary colour. They are shooting in the desert and he makes the sand golden rather than its natural grey. He talks about casting CCH Pounder. "We auditioned 20-30 Brendas who were so far away from what we wanted and then... she came in," he says with a smile. "It was love at first sight."
3. Bagdad Cafe - The Story. This is pretty pointless. Someone, probably Percy, tells the story of the film, which you have just watched, accompanied by still photographs.
4. Trailer. Originally in Europe the film was called Out Of Rosenheim. Its trailer is dubbed in German with subtitles. It's awful.
Reviewed on: 18 Aug 2018
Share this with others on...