Eye For Film >> Movies >> Bad Education (2004) Film Review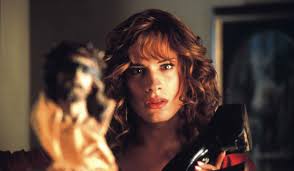 Spain 1980, the period of destape after the demise of Franco: Enrique Goded (Fele Martínez) is a young gay film director, struggling to find a subject for his next venture. Then an old schoolfriend, Juan (Gael García Bernal), shows up with a script. Now going by the name Angel and tiring of the Bumblebee experimental theatre group, with which he has been performing for the past few years, he desperately wants Enrique to adapt the piece, with himself as the lead, a transsexual named Zahara.
In the script s/he is blackmailing a priest, Father Ignacio (Francisco Boira) by threatening to publish a story revealing the sexual abuse he perpetrated on his young charges at the church school, with an already emotionally charged situation further complicated by the fact that a youthful relationship with Juan gave Enrique his first inklings as to his own sexuality.

Enrique is captivated by the story. There is, however, one problem: he cannot see Angel as Zahara. Thus the two men fall out and, as Enrique investigates his friend's more recent past - the pair not having seen each other since they were around 10 years old - a sinister plot of murder and conspiracy emerges...
Bad Education sees Pedro Almodovar recombine once more the two modes that have long dominated his filmmaking, melodrama and thriller, an unholy union of Douglas Sirk and Alfred Hitchcock, by way of the long-established European art cinema tradition of semi-confessional films about the cineaste/artist as a young man (Truffaut, Fellini, etc).
Other than expressing a predictable, if understandable, distaste for the Franco regime, increasingly moribund as the Sixties shaded into the Seventies, the director plays his hand close to his chest, a series of wheels within wheels, stories within stories and films within films making it all but impossible to determine the extent to which this is fiction, or Film a Clef.
What, for instance, are we to make of the mise-en-abyme sequences featuring Bernal - an excellent performance - as Zusana? Are they Angel's projections of how he sees himself performing the role, or Enriques's - less likely, perhaps, given his initial misgivings - or something in between, the ultimate product of their collaboration? Or does the "reality" belong to Almodovar, the filmmaker behind the behind-the-scenes?
Even if Almodovar declines to show his presence directly, his characteristic style is apparent throughout, from the attention grabbing Saul Bass meets Se7en titles, full of red and ominous religious/sexual symbols, to the closing emblematic "passion", thereby further confusing and complicating the relationship between himself and Enrique.
Likewise, to what does the title Bad Education/Mala Educacion refer? The appalling history of the Roman Catholic Church in covering up and/or condoning too many of its officials' abuse of responsibility is one obvious answer, its intersection with a repressive regime another. The former feels too simple, especially given Almodovar's characterisation of Father Ignacio - incarnated with pathos and power by Francisco Boira - as a figure who is, in himself, clearly a victim of once prevalent attitudes towards homosexuality, along with the far more challenging possibility that it is the very environment of the church school that, at some level, made Enrique begin to understand who he "really" was.
Whatever the case, there is no doubt that this is an accomplished, thought provoking and, above all, emotionally mature film that sees a director who is not afraid to ask questions of his audience and, above all, himself.
The only minor fault - there has to be one, if only to encourage further excellence - is the look of Enrique and Angel, just too carefully chosen to avoid offputting (distancing) period styles, placing them within bas relief against some of the other, punkier, characters around them.
Still, damn close to a masterpiece.
Reviewed on: 29 May 2004
Share this with others on...