Eye For Film >> Movies >> Assault On Precinct 13 (2005) Film Review
Assault On Precinct 13
Reviewed by: The Exile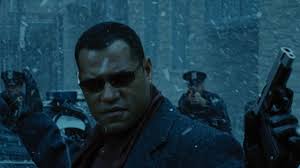 Out of decency, at least, there should have been a mourning period; but ever since Silvio dragged poor Adriana to her death in the last season of The Sopranos, actress Drea de Matteo has been working like someone just released from lockdown. An excellent performer, upstaged at every turn by a body with a mind of its own, de Matteo has been unable to escape the ghost of Ade; watching her thrust her way through the tired sitcom Joey, or slink around in fishnets for Assault On Precinct 13, all we need is a cigarette-honed rasp of "Christufuh!" to transport us right back to New Jersey.
Instead, we're stuck in Detroit, in a near-abandoned police station on New Year's Eve in the middle of a blizzard. If that's not bad enough, we've got a traumatized Ethan Hawke, a weary Brian Dennehy and a cameraman with delirium tremens (or perhaps just early frostbite) to contend with. Adhering to the template, if not the artistic decisions, of John Carpenter's minimalist 1976 classic, this new Assault takes place in and around Precinct 13 on the eve of its closure, where a skeleton crew is finishing its final shift.
Jake Roenick, aka Sarge (Hawke), has retreated inside his uniform ever since a bad drug bust ended his undercover career, the lives of two colleagues and his ability to sleep at night. I'm assuming the last - Hawke looks so ragged in this picture, either he hasn't slept since Christmas, or he's aging very, very badly.
Joining him are grizzled Irish cop Jasper (Dennehy, who's sleeping very well indeed, mostly onscreen) and hot-pants secretary Iris (de Matteo), a young woman whose primary motivation makes her ideally suited to this particular work environment. "I fuck bad guys," she tenderly informs a smitten cop when he dares to make a move.
Then a prisoner transport stalls in the snow and is diverted to the precinct, dumping a motley crew of ne'er-do-wells on Sarge and his staff. But the fun really begins when the building is surrounded by anonymous snipers and Sarge is forced to arm his prisoners, including super-criminal Laurence Fishburne, petty crook John Leguizamo (still coked-up from Spun) and - following the SAG guideline of one rapper per action movie - Ja Rule, as a talkative hood, named Smiley. Completing the women-in-skimpy-outfits quotient is Maria Bello, as the department shrink, assigned to straighten Sarge's head, unaware that all he needs is an evening of nonstop gunfire and random death to get him back on the road to mental health.
Assault On Precinct 13 bears little resemblance to its predecessor. Carpenter's beautifully composed, gloomy images and throbbing score plucked on our nerves in a way that would mature just two years later with Halloween. Working with virtually no money, Carpenter transported the central tension of Howard Hawks's Rio Bravo to L.A.'s blasted gang territory and created an atmosphere of invisible terror. But director Jean-Francois Richet, playing to a new demographic, replaces the menace with gore and the artistry with a muscular determination to confound our expectations. Be warned: this is one genre picture where being nice doesn't automatically guarantee survival.
Like Joe Carnahan's Narc, Assault opens with a gritty, propulsive sequence, choreographed for maximum shock. Richet is at his best when moving quickly - he's a director in love with momentum. He's also fond of gunshot wounds to the head, killing no fewer than three of his characters with skull shots, before hovering over the corpses in hushed contemplation. In his odd Gallic way, he is showing us there's guts, but precious little glory, in this particular method of execution.
Reviewed on: 28 Jan 2005
Share this with others on...