Eye For Film >> Movies >> Any Day Now (2012) Film Review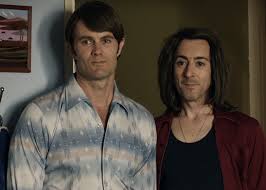 Looking at gay men on film, you could be forgiven for thinking that they are all held in suspended animation somewhere after the difficult coming-of-age years - unless needed for romcom camp friend duties - until, if they are lucky, getting wheeled out again in old age, at which point there's a good chance they won't make it to the end of the runtime.
That the central protagonists in the Seventies-set Any Day Now are gay, single, in their 40s and actually embark on romance as opposed to a furtive fumble, makes Travis Fine's film unusual. That he and veteran TV co-writer George Arthur Bloom also handle a Down's syndrome plotline with respect and reserve marks it out as something a little bit special - a view that I share with other filmgoers at Tribeca Film Festival, who this week gave it the audience award. Those in Hollywood who think all film fans want are clones of well-worn 'winning' formulas may also want to note that Any Day Now is laugh out loud funny and heartbreaking without resorting to neat Hollywood set-ups or resolutions.

Alan Cumming, looking like the long-lost cousin of Bird's Of A Feather's Dorian, has rarely been better than he is here as Rudy, a drag queen on the mime-track to nowhere, whose outrageous exterior hides a lonely but loveable soul. Living alone in a down-at-heel area, his junkie neighbour is more concerned about where her next fix is coming from than what her teenage Down's syndrome son Marco (Isaac Leyva) eats for breakfast. Rudy, sick of her loud music day and night, goes in to read her the riot act, only to find her son, frightened and home alone. Seeing, perhaps, something of a kindred spirit in Marco, he takes him in, although he proves only a brief stop-gap before child services arrive because mum has been arrested.
Marco is not the only lonely dot on Rudy's horizon, though, closeted DA office lawyer Paul (Garret Dillahunt getting a chance to show a softer side) walks into the drag bar at the end of Rudy's act. There's an instant attraction and it's not long before the pair of them are trying one another on for size in Paul's car. Although initially looking like little more than a blow-and-go affair, there is more of a connection between the two than they expect and they promise to meet again, although Rudy is sceptical.
In fact, all three of these lost boys are about to make the other's lives complete, when, after finding Marco wandering the streets, Rudy and Paul hatch a scheme to look after him, even if they have to pose as cousins to do it. What follows is both a touching story of romantic and platonic love and a contemplative but stinging indictment of prejudice in the world of the Seventies, when being gay is considered to be at least as much of an 'affliction' as having Down syndrome.
There is no indication on the credits that the story is based on fact but it has an 'everyman' ring of truth. To make an audience cry is always a neat trick, but Fine avoids manipulation in favour of crafting satisfying, slow-build emotional moments, such as a a beautifully worked scene in which Marco is first shown his new room. The insertion of a 8mm 'home video' segment to fully cement the idea of the trio as a family unit, shows actor-turned-director has a mastery of economy. I'll certainly be looking out for more Fine films on the horizon.
Reviewed on: 30 Apr 2012
Share this with others on...