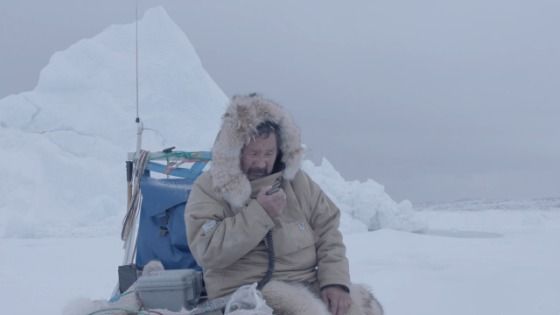 It's lonely out on the ice. A Greenlander venturing deep into the fjord is isolated from civilisation; there will be no one there to help if things go wrong. But there is an emergency radio post, and it is on this that Aningaaq (Orto Ignatiussen) picks up an emergency call from a stranded astronaut.
The astronaut is played by Sandra Bullock. You may already have heard the other side of this conversation, in Gravity.
This seven-minute short was originally made to go with Gravity but it stands up very well on its own. It's a simple story. Aningaaq and the astronaut don't share a language, but they find a way to communicate. Aningaaq has troubles if his own, all the more poignant for the plain way he describes them. But life is going on around him. A baby is borne by his companion. He has no idea that on the other end of the call there is only death.
Beautifully photographed yet with the wit to avoid showing off the landscape - Aningaaq, after all, takes it for granted - this is a deceptively slight film that packs an emotional punch.
Reviewed on: 22 Nov 2013
Share this with others on...