Eye For Film >> Movies >> An Irish Goodbye (2022) Film Review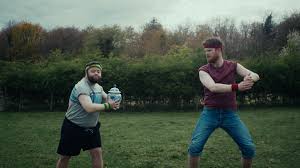 Like French Exit, for some there is a suggestion that An Irish Goodbye is to leave without saying anything. The Russians and the Poles join in; for them it's "to leave in the English way." The Germans attribute it to the Poles, and so on. Like syphilis it seems a habit a bad habit that crosses borders, and being set in Northern Ireland the film has plenty of those to juggle.
What it doesn't have is no goodbye. The film is built around a list, voiced by the recently departed mother of Lorcan and his elder, expatriate brother Turlough. While she might have left, Michelle Fairley's Grainne still has something to say, albeit in voiceover. Played by James Martin, her younger son Lorcan is the engine of the film. It's his desire to help his mother achieve her hundred aims that gives structure to proceedings. As an actor with Down's, his few roles have made that syndrome central, but that's a disservice to a capable and charismatic talent. Seamus O'Hara has a different task as his brother, intent on ticking things off to get him out the house and living with their Aunt Margaret.
That's one of the small details that stuck, more than what goes into whose pocket. Father O'Shea (Paddy Jenkins) drives a black Volvo estate but between aftermarket rims and what seem like tuner badges it seems like it's more fit for Brands Hatch than fetes and bran tubs. The farm is dairy, there's something about the shape, even before the glasses of milk at dinner and the invisible cows. That there's talk of confession but that Aunt is a Margaret and not a Mary carries with it a whole set of sectarian semiotics.
None of which An Irish Goodbye engages with. It doesn't have to, but it doesn't really engage much with anything. Despite a strong performance from Martin it feels a half-hearted black comedy, never quite finding its pitch. It's a second short for writing/directing partnership Ross White and Tom Berkeley. They've form with odd couples, and indeed female voices. 2021's Roy is centred on the friendship between a phone-sex operator and the elderly man who accidentally calls in. For that they worked with 'That Guy' David Bradley, here the differently recognisable Jenkins carries most of the non-flatulent funnies.
There are some neat bits of construction. Eye contact broken by moving a mirror, the recurring presence of boundaries and barriers. The farm has the labyrinth of agricultural accretion, breezeblock and pebbledash layered like the marbling of grass-fed flesh. Dado railings and teacups, twitching nets and perpendicular grief. Their eventual erosion after a knock at the door is as inevitable as the montage.
It's well made, well acted, and, well, that's it. It feels like there's something missing more than the shadow cast by the characters' grief. Turlough is back from London and there's more made of his cooking than the economics of 150 acres here and an apparently indefinite leave of absence there. It might be intended to indicate independence but it feels rootless, even toothless, when one would hope that black comedy would be ruthless.
Instead it feels like it is ticking things off a list, and not only because that's what happening. There are any number of films about grief, but the ones that have grabbed me are the ones that are as spiky and difficult as the aftermath of loss. The Last Photograph, State Funeral, The Pyramid Texts, all have something awkward and agitating. Their unfolding is not rote, alphabetical.
Unlike them, An Irish Goodbye might raise a chuckle, be worth a smile, but it doesn't invite an RSVP.
Reviewed on: 09 Jan 2023
Share this with others on...