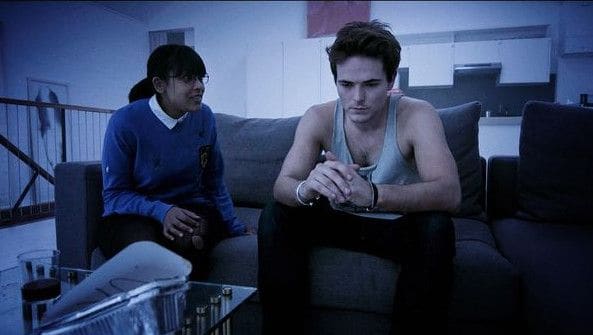 Amber is an intense vignette: a short sharp study in teenage obsession and desire which crams into just 13 minutes a whistlestop tour of stalking, suicide, underage sex and the commercial exploitation of wannabe narratives by the music business.
In other words, it is the tale of 14-year-old fan and writer Amber (Cat van Dort) whose life is knocked off course when Charlie (Will Finlason) the object of her obsession and leading light in boy band One Summer announces his decision to quit.
Much weeping, slashed wrists, and a nocturnal confrontation with Charlie follow, in which some harsh truths are delivered and Amber is disillusioned. Or is she? Did any of this really happen? Or is she not so much fan as fanfictionalist and a writer of slashfic to boot?
This was neatly done, and reflects well on writer and director Andi Osho who, despite being perhaps best known nowadays as a stand-up comic, had an extensive career beforehand in television production and later in both writing and acting.
Reviewed on: 22 May 2017
Share this with others on...