Eye For Film >> Movies >> Adam's Apples (2005) Film Review
Adam's Apples
Reviewed by: Chris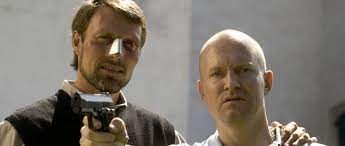 Danish black humour takes a sinister and thought-provoking turn with Jensen's mature directorial opus, Adam's Apples.
Ivan (Mads Mikkelsen) is a village priest with an unquenchably tolerant and forgiving attitude. He is accompanied by the pugilistic neo-Nazi Adam, the thieving Gunnar, and the would-be terrorist Khalid. An apple tree outside the church offers Adam the chance to complete a constructive task - baking a pie - but the apple tree is beset by misfortune. The storyline will be enough to make the most unshockable squirm and includes jokes about disability, rape, and cruelty to animals just for starters. Whether you feel the end justifies the means or you plump on the side of condemning it as bad taste may be to do with your sensibilities and how you look at such issues.

For all his professed piety, Ivan can sometimes seem a little heartless. An elderly man who needs the loo during a sermon is subjected to much sermonising in an extended joke about holding it in before he is allowed to go and use the toilet (but not the church one). The only woman in the story is hysterical Sarah, who seeks Ivan's solace after getting pregnant. The child has a chance of being disabled. Ivan regales her with the story of how they had the same worry over his own child, but now he delights every day to see him running around. When Sarah discovers that Ivan's child is really paralysed, she feels betrayed. It transpires that much of Ivan's world is a fantasy based on a belief in the goodness of everything. The gossiping doctor explains how Ivan's wife didn't die accidentally but committed suicide. Ivan was raped by his father. Psychologically, Ivan is in denial about almost everything, and this poses the question: is religion a form of denial of the harsh reality of the world?
Adam's bible is one of the few things in his room apart from a picture of Adolf. Each time the door slams, the picture falls off the wall and the bible falls on the floor, always falling open at the same place - the Book of Job. If you are well up on your Old Testament, you will probably recognise the film as an extended essay or modern version of Job. This is the book with the lines made famous by many cinematic funerals: "Man that is born of woman is of a few days, and full of trouble. He cometh forth like a flower, and is cut down."
In the original, Job's afflictions are a test of his faith, which is how Ivan translates every misfortune, even when he is beaten up by Adam. The ultimate point is probably that goodness is valuable of itself - whether as a way of life or as a virtue - and whether or not it is always appreciated. (This maybe holds true whether you support the parable with a religious context or not.) Ivan's 'goodness' certainly endures adversity, although many might suggest it is really a self-righteous stupidity. Ivan does not have the self-possessed humanity that marks any sort of 'Gotterdammerung' or humanist moral high ground. This is Adam's point, who gets a gun to scare "the goodness shit" out of Ivan. He tells him that God really hates Ivan, and that's why all the bad stuff is happening. Is Adam the devil tempting Ivan, or just a realist trying to get him to admit his hypocrisy?
Adam's Apples boasts good production values and excellent acting. Its style of humour is the thing that will divide people. Dark humour is a cornerstone of Danish cinema, from Thomas Vinterberg's The Celebration to von Trier's The Boss of It All and even including Wilbur Wants to Kill Himself, which Jensen wrote: but in all these examples, the humour directs us to feel uncomfortable about jokes that are 'politically incorrect' and hurtful, or they are handled with a sensitivity towards the victims. Adam's Apples, on the other hand, seemed to have little redemptive concern for those groups who are the butt of jokes, whether women, Muslims, or people with Down's syndrome. Funny and cleverly-written they are, and the audience mostly laughed throughout, but they are heartless. I was pleased that a gag about Sarah being trussed up and probably raped at least didn't elicit laughter from the Scottish audience at the screening I went to; I wondered how reactions would differ in different countries and continents.
Adam's Apples is a clever film but not nearly as clever as it would seem. Biblical allusions to stoicism in the face of adversity work better in the original Old Testament, and the racist, sexist and homophobic jokes (whilst acceptable to O.T. morality) are less tenable by enlightened standards.
Whenever Ivan is driving, he plays the BeeGees' How Deep Is Your Love. He does indeed perhaps find some light in his deepest, darkest hour, but this reviewer might be tempted to leave him to it.
Reviewed on: 21 Feb 2007
Share this with others on...