Eye For Film >> Movies >> A Haunting In Venice (2023) Film Review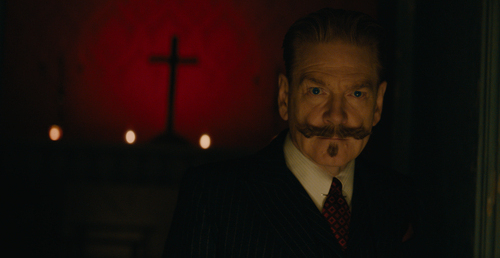 Kenneth Branagh's third outing as Agatha Christie's Hercule Poirot is ostensibly based on her 1969 novel Hallowe'en Party. Its literary genesis is well obfuscated. While many elements have been retained they are so thoroughly transformed that having read the book will not constitute a spoiler. That makes it all the harder to forgive issues of pacing and plodding that dog the film's curious incidents.
Poirot has retired to Venice, a contemplative idyll protected by Riccardo Scamarcio's Vitale Portfoglio. The name (which roughly translates as 'important folder') is another indicator of concealment. Scamarcio's one of a massive international cast. Though he's probably better known in Italy, audiences elsewhere might recall him from John Wick Chapter 2, The Translators, or export grade melodrama Three Floors. He joins Camille Cottin as the housekeeper Mrs Seminoff, Kelly Reilly as opera singer Rowena Drake, Jamie Dornan's Dr Ferrier and Tina Fey as Christie's auto-caricature and self-insert Ariadne Oliver as suspects at the source work's eponymous event.

Or, rather, the séance afterwards. It's that, anchored by Michelle Yeoh's Mrs Reynolds, that brings this work's titular haunting. Not that you have to wait for it; the opening only gives up on dutch angles to focus on a tolling bell, and from that to a seagull setting upon some pigeons. One might have thought a cat would be more apt, but it would have looked even less convincing than its (possibly) computer generated cousin floating on a canal at the film's resolution. I speed that image along because the film doesn't feel a need to. At 103 minutes it drags to feel much longer. The tendency to jump scares is more interesting than anything Branagh conjured when directing his Thor. Even with that novelty it reuses many of its tricks, even going to a cockatoo twice. I won't say if that bird's a red herring, but in the wider menagerie of mystery I did figure out one of the plot points because I'd read another work with duplicated dastardly doings.
There's a reference to the 1753 Witchcraft Act but the film commits a common error. That act, which at the time the film is set had not yet been replaced by the 1951 Fraudulent Mediums Act, isn't for witches, but people pretending to do be witches. That act actually explicitly states that "no Prosecution, Suit, or Proceeding, shall be commenced or carried on against any Person or Persons for Witchcraft, Sorcery, Inchantment, or Conjuration." It then adds to it "And for the more effectual preventing and punishing of any Pretences to such Arts or Powers as are before mentioned, whereby ignorant Persons are frequently deluded and defrauded," before going into potential penalties. A prosecution under the act doesn't indicate the party is a witch, but instead that they are pretending to be one. Though one supposes a defence might be that they were not so pretending and were actually so, but at that point we are further through the looking glass than any scene involving that moustache being waterproof. One of the points brought from the source novel is apple-bobbing, and while few things are as associated with a certain quaint Britishness the tradition has Roman origins.
Michael Green also penned the previous two. He's got form for adaptation. Jack London based The Call Of The Wild, Neil Gaiman based TV American Gods, Wolverine-comics based Logan, and theme-park boat-ride based Jungle Cruise. He also penned the ponderous Blade Runner 2049 and is one of four culpable for Alien: Covenant. While Branagh seems to have asked DoP and another regular collaborator Haris Zambarloukos to check the back of the cupboard for any shot setup he can find, Hildur Gudnadottir appears to have been asked to pull a score straight off the shelf. There are drone shots, cameras strapped to chests, mischief with mirrors, what I think is a CG courtyard, a succession of extreme closeups that sometimes suggests actors weren't simultaneously shooting, Chekhov's champagne bucket or hospital trolley, and what I'm sure is a CG seagull. Despite all that sticking in memory, I know there was music but if it had strings I should have tied one around my finger.
All that exotic technique does help make things quite spooky at times, but often also quite silly. I had to check a reference to a Ouija board. The novelty entered production as a commercial parlour game in 1901 or so. Tin foil, or more specifically aluminium, was introduced in 1913, and the reaction with dental amalgam isn't from the mercury but the other metals. The references to war nerves and the liberation of the concentration camps are heavier perhaps than fare like this usually treads, and given how difficult some of this film's pacing is it seems some alloy of leaden and brazen.
Branagh's Poirot will be for some the definitive turn, but as with Holmes, for many the more modern takes will not be where the heart is. What's on the cards for these sorts of characters is constantly being re-drawn, but the bonds between fans and films are often contentious. I know it's hard to do double-duty but Branagh's possibly not stretching his talents reacting to things that aren't there. He may just be imagining how much of his budget they're using.
The younger cast, including Emma Laird, Ali Khan, and especially Jude Hill acquit themselves well among elders who have boxes of acting awards. Venice plays itself, though the limitations of setting means that you'll see a bridge that was in this year's Mission: Impossible. A literary character who's spawned a film franchise rediscovering their mojo around a Venetian drowning might seem familiar, but he's not the only spectre haunting Europe. Set in 1947 the films have already taken liberties with the chronologies of Christie's canon, but fresh from Oppenheimer it seems surprising that in and around all this conspicuous class-conscious crime there's nothing of communism. There's plenty of communal activity though, conspiracy too.
There's a shadow play with puppets that brings in the notion of plague and historic curses, and one supposes it was either that or a blonde in a sailor suit in the "things that have been done before" department. Some of the trickery has the ring of the latter explorations of Arthur Conan Doyle and Houdini, for that and other reasons one sunlit shot really seemed cribbed from Christopher Nolan. That constant sense of being reminded of something else is where A Haunting In Venice is weakest. It charts a course far away from its source text only to founder on well-charted territories. While Poirot had a number of international adventures on the page, this wasn't one of them. One wonders though, with this being released near to Hallowe'en, if the eventual intent is to give us the variously titled Murder For Christmas set somewhere else Branagh would like to visit. That too might be a gift where one would hope for a receipt.
Reviewed on: 14 Sep 2023
Share this with others on...