Eye For Film >> Movies >> A Fuller Life (2013) Film Review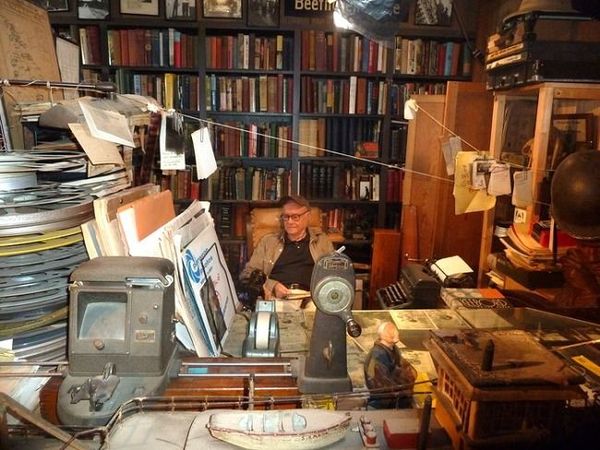 Sam Fuller's wonderful life is given the documentary treatment by his daughter, who composes this film of actors reading from Fuller's diaries. Fuller's life spanned almost the entirety of the 20th century, and he remains one of the American cinema's greatest chroniclers of the restless mass of people who inhabit his country.
The trick of having actors read out Sam's scattered attempts at autobiography doesn't always work, even if it is rather wonderful to see Wim Wenders reading Sam Fuller's memories of the 2nd World War. Too often some of the actors stray into ludicrous melodrama, believing themselves to be performing a method reading of Sam Fuller's life in an actors' workshop. Which can be quite irritating to watch.

That aside, any greater insight into the life of Fuller is most welcome. This was a man who gabbed his way into a New York newsroom aged 13, and started reporting on murders at 16 before being sent to cover the executions at Sing Sing. Sick of that, Fuller packed up and left, deciding he'd cover the American depression as a freelance reporter. And he wanted to cover it all, from New York to San Francisco (where he'd end up) and everything in between.
Fuller's greatest insight into that torrid time, when the stock market crashed and millions of Americans roamed the land hoping for a better place or just a hot meal, was that human behaviour was "controlled by the belly, not the brain". Nothing could better describe Fuller's films. He made films from the gut: fast, loose, free, funny and hysterical.
This documentary gives us a little peek behind the curtain as to why Fuller made the films he did. Boisterous, broiling, bare-knuckle films that looked straight into the madness of the human condition such as Pickup On South Street, The Naked Kiss, Shock Corridor, The White Dog.
It perhaps would've been nice to know a little more about Fuller's films and their making, rather than spend so long detailing his service in the Army during WWII - Fuller demanded to serve in the infantry rather than work on an Army journal - but maybe this documentary's greatest gift is that it leaves you wanting to revisit the mad world of Sam Fuller all over again.
Reviewed on: 30 Jun 2014
Share this with others on...