Eye For Film >> Movies >> A Dangerous Game (2014) Film Review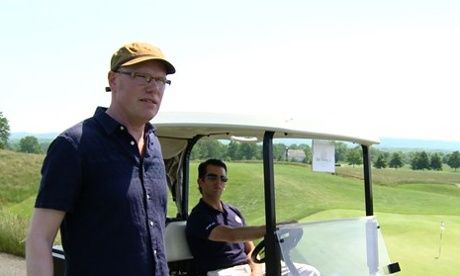 Anthony Baxter's follow up to his hugely successful 2011 film You've Been Trumped finds the director returning to the Menie estate, as well as taking his investigation of the misuse of power and the game of golf global. Trump, of course, has in the been as unrepentant as a British Middle East Peace Envoy in the intervening years. He's branded Baxter a failed filmmaker, waged war with the Scottish Parliament and given up on Scotland to open a new course in Ireland. At least they've been warned.
Without the central issue of Trump's brazen exploitation of the Menie estate and its inhabitants to hold A Dangerous Game together, this follow up is perhaps less well structured. Occasionally it pursues tangents which feel stretched, such as a visit to a PGA expo in LA, presumably to mingle with the clientèle of a Trump golf course, but the point feels lost somewhere.
But on the plus side, Baxter finds a new, equally worthy cause. The residents of Dubrovnik are under siege from a different billionaire developer who wants to drop his exclusive golf resort on top of an arid stretch of land overlooking the city, a UNESCO World Heritage Site. While the locale may be different, the issues are the same - an acquiescent political class opens as many doors as possible for the world's wealthiest people to destroy precious natural landscape.
While Baxter could never get an interview with First Minister Alex Salmond to question to the Scottish Government's dubious role in the Trump debacle, he has interviews with Croatia's former President and the current Mayor of Drubovnik. Both talk elusively about regeneration and job creation, yet neither sells it well. They've already sold out.
In stirring fashion the residents of Dubrovnik force a referendum on the issue to be held, by collecting more than the ten thousand signatures required under Croatian law. 80% of those who vote reject the proposals for the golf course, with jut 20% in favour. Dubrovnik's Mayor insists the referendum will be ignored, as not enough people voted on the issue. Almost double the amount of Dubrovnik residents voted on the referendum than at the last EU elections. Democracy in action.
If there is a criticism of A Dangerous Game then it is a similar one that could've been labelled at You've Been Trumped, in that it feels like the game of golf comes off unfairly as indicative of the arrogance of the rich and powerful. There are attempts to remedy this with the inclusion of Baxter's uncle, a keen golfer who has spent decades collecting lost balls from his local course and donating them to Oxfam. It's heartening to see attempts to reconnect the game of golf with its roots, particularly in Scotland, where the game was, and still is, played by many of modest means.
A Dangerous Game, like its predecessor, is an often searing indictment of the abuse of power that a privileged elite feel is their right. For too long our landscapes have been held hostage to those who wish to carve them up for their own selfish means. Images of Trump's course surrounded by locked gates made of reinforced steel, impinging on the Scots right to roam, bring to mind similar incidents in recent years at some of Scotland's grandiose landed estates. This is a particular problem in this country, one that activist and writer Andy Wightman has documented for years, and Anthony Baxter's latest documentary can only add to the clamour of voices calling for change.
Reviewed on: 26 Jun 2014
Share this with others on...