Eye For Film >> Movies >> A Blade In The Dark (1983) Film Review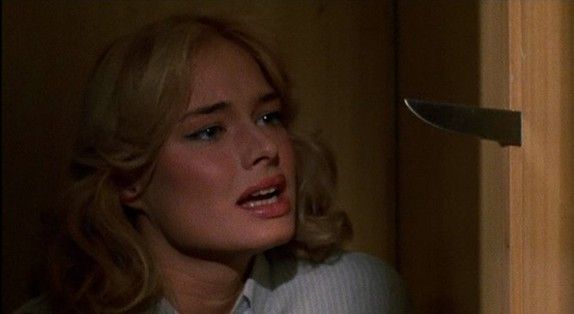 Two years before he became famous internationally with Demons, Lamberto Bava made his sophomore film, A Blade In The Dark. Despite his oft-professed preference for stories with a fantastical element, this is very much a traditional giallo which harks back to his father's work on films like The Girl Who Knew Too Much and Five Dolls For An August Moon. A killer is on the loose and the cleverly structured plot keeps the viewer guessing who it might be right up to the final scenes. If the denouement feels a little flimsy by comparison, it is nevertheless interesting in light of the film's deeper themes and queries around how society frames and compares different identities.
Bruno (Andrea Occhipinti) is a composer working, for the first time, on the music for a horror film. Actual composers Guido and Maurizio De Angelis have great fun working the fictional score into the real one and, in so doing, set the stage for both affectionate pastiche and clever auditory clues. To help him capture the right mood, his director - who is perpetually secretive about what the last roll of her film will contain - arranges for him to stay in a large, remote villa the fate of whose previous tenant is shrouded in mystery. Unnerved by the place, he invites his girlfriend to visit, but living there becomes much more disturbing when the former tenant's glamorous friends start dying.

Originally made for television, though it's produced to a much higher standard that you might expect with that in mind, Bava's film was decreed too gory for the medium. As so often in giallo, the gore is where the director's style really comes into its own, and a sequence set in a bathroom here is one of Bava's best pieces of work. Overall, there's a lot less gore than fans might be hoping for, but there are plenty of other things going on. In the creepy opening sequence, two boys taunt a third; the worst insult they can come up with is 'female'. Bava's female characters are tough and complex as always, and in and around the murders he poses questions about the way femininity is stigmatised, signalling a critical approach to a genre he has only just begun to engage with as a director.
Unfortunately, this generally well-handled mystery suffers from some truly atrocious dubbing and a clumsy translationn into English that turns what ought to be darkly atmospheric scenes into comedy. Some plot devices - like the late introduction of the idea that Bruno and his girlfriend met when playing tennis, when we know the murderer may have a connection with the game - are crude in themselves, and there are red herrings that depend on characters engaging in behaviour which is ulikely to say the least. There are real scares along the way, however, and Bava shows an early mastery of tension. This film is a must for his fans, an interesting curiosity for others.
Reviewed on: 18 Nov 2017
Share this with others on...