Eye For Film >> Movies >> 9 Month Stretch (2013) Film Review
There are three kinds of funny - ha ha, peculiar and smart. And then there's another - French. 9 Month Stretch doubles up with smart and French, which is the winning ticket.
After a slow start in which Arienne (Sandrine Kimberlain) introduces herself as a positive killjoy, a dedicated judge who relishes the amount of cases that pile up on her desk and suffers a phobia for social get togethers, preferring her own company to that of others, especially men, suddenly snaps into life when she starts throwing up in the morning.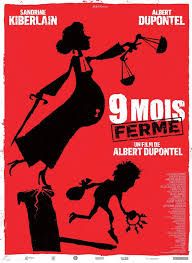 Her gynecologist confirms the impossible. This self-imposed virgin is pregnant. The shock almost kills her. How? Where? With whom? Arienne is chic in a sensible way, as lean as a bean and never flirtatious. In fact, her sensual genes have been cauterised by childhood traumas. The lady's not the lovin' kind; she's the legal kind.
So far so blah, except the blah is far from inconsequential, consisting of barmy barristers and a stuttering defense attorney whose courtroom performance is pantomime in purple.
The plot thickens with the arrival of the infamous Eye Gobbler (writer/director Albert Dupontel), a serial thief who is accused of attacking a geriatric old man during a robbery, hacking half his limbs off and eating his eyeballs. This monster escapes from jail and breaks into Arianne's flat, demanding that she investigates his case and clears him of the heinous crime.
The stage is set for something extraordinary, intelligent and so unexpected you can do nothing but sit in a haze of expectation, waiting for the fun to ferment, which it does.
The result is intoxicating.
Reviewed on: 03 Nov 2014
Share this with others on...