Eye For Film >> Movies >> 8 Bar - The Evolution of Grime (2021) Film Review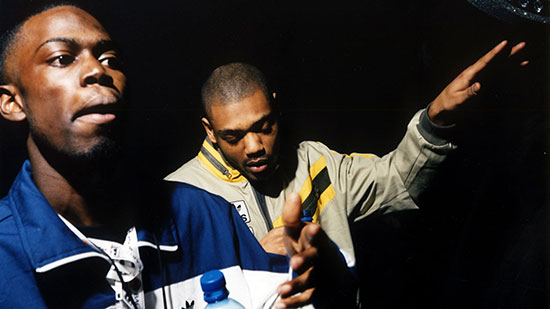 Watching the stars of this documentary recall the mid-00s, you get the sense of just how distant the recent past can seem. In 2002, it's doubtful the likes of Dizzee Rascal, Kano, Jammer or Lethal B expected that that in two decades, the Museum of London would mount an exhibition celebrating this once tiny scene which sprung from a few deprived corners of east London. But 20 years is a lifetime in popular music, and grime, the sound that produced Stormzy, has found fans in US stars Drake and Kanye West, and can claim to have sown the seeds for many UK artists since, now occupies a curious place in 2022. While the crown Stormzy holds is undeniable, who might be carrying it into the future is a little less certain, even as many of its long-serving artists now command a status few would have imagined just ten years ago.
Ewen Spencer's documentary benefits from a sharp sense of grime's musical origins, offering an overview of its musical origins as it skips back and forth between 1990s scenes like ragga and jungle to map out the sound's genealogy. It does a fine job of capturing the conflict within the UK garage scene that it rose out of in the early 00s where these rowdy upstarts weren't always welcomed, but ultimately couldn't be contained. As he deftly weaves in the social context and resistance that grime met with, Spencer traces the peculiarly thwarted, stop-start momentum that characterised grime's ebb and flow in the 00s, showing that the same desperate ferocity that made lifelong fans of the music was also what caused it to find such opposition in the form of Operation 696, a bill that meant the scene's artists were barred from performing at clubs.
8 Bar makes light work of sketching the conditions that shaped the music, betraying a canny understanding of the music industry's politics, as well as the changing shape of music sales in the 00s. Spencer is less interested in key records or moments than the bigger picture, but fans already familiar with the music's timeline will appreciate the sense of perspective many of the music's biggest movers and shakers provide. But it's often the footage of grime in its live element where 8 Bar instantly reminds how much of a jolt the music was, and still is. As you watch MCs jostling for their moment in tiny box rooms in pirate radio studios, environments which could inspire creative camaraderie and tension in equal measure, it drives home why grime was so raw, exciting and lethal. Maybe it's no wonder it took those outside the scene so long to catch up – for many, this music was just too volatile.
Grime has developed better production values, greater professionalism and better PR in recent years, but Spencer's documentary still ripples with the frustration of an era where Radio 1 playlists were still off limits. But as the film reaches its well-earned victory lap of scene stalwart Skepta making his mainstream breakthrough, sold out nights at Wembley and Stormzy headlining Glastonbury, you can't help but wonder, where next?
Reviewed on: 13 Jul 2022
Share this with others on...