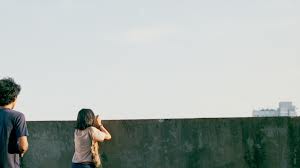 Nawapol Thamrongrattanarit finds poetry within the central conceit of his directorial debut, which shared the New Currents prize at Busan Film Festival last year. The film's title, recalling the 36 shots available back in the days when we all still used that fiddly stuff called film in our cameras, comprises 36 snapshots and explores the importance of photos when it comes to capturing or evoking memories.
Sai (Koramit Vajrasthira) is a location scout, whose life is measured in photographs. We meet her as she makes her way through a long-empty portion of a building, snapping as she goes. With her is Oom (Wanlop Rungkamjad), the art director for the film she is scouting. The two have never met before and as they drift through the rooms of the building - which significantly turns out to be the remains of a Vietnam-war era love hotel - they strike up a rapport. While Sai is wedded to her photographs, Oom takes a more open view. "If you look at it with your eyes it would be prettier," he tells her as she misses the chance to appreciate a bird in her haste to try to immortalise it through film.

Flashing forward in time - after the rather too-cute insertion of a mid-runtime credits sequence - we meet Sai again, still in the photo biz as she tries to help a director find the perfect set. Remembering the building from two year's previously, she digs out her memory stick, only to find the file is corrupted. As she tries to get the photos recovered we and she fall to thinking about Oom and what, perhaps, might have been. Oom, meanwhile, has his own little secret to share with us.
Thamrongrattanarit stitches the essence of photographs into his film. Each of the 36 scenes comes with an intertitle, written as if it were a caption revealing inner thoughts hastily scribbled into scrapbooks. The framing is, like a photograph, fixed, so that Sai and Oom step in and out of it. Most cleverly of all, Oom is barely seen - a man who doesn't like to have his photo taken, he also remains a mystery to us, hovering just outside of the shot or with glass and reflection between us and him so that he has all the substance of a memory - like that which Sai carries in her mind.
This photographic formula may sound as restrictive as it is perscriptive but Thamrongrattanarit has a light approach to his ideas of memory and recollection, weaving moments of comedy and poignancy into his sweet if slight drama. Every one of his pictures tells a story and those who look at it most closely will gain the greatest reward.
Reviewed on: 18 Jul 2013
Share this with others on...