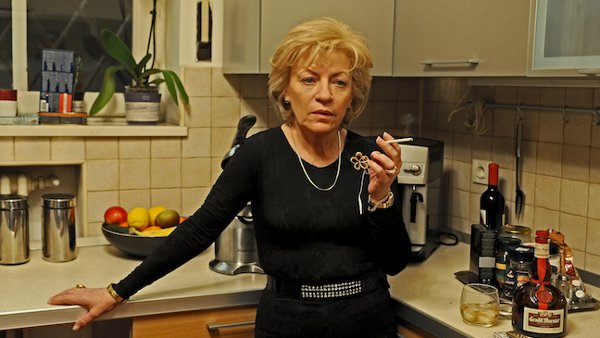 Romanian drama Child's Pose (Pozitia Copilului) has won the Golden Bear for best picture at the Berlin Film Festival.
Calin Peter Netzer's film stars Luminita Gheorghiu as an overbearing mother who tries to use her position in society to help her son dodge jail after he kills a child while speeding.
The Grand Jury Prize Silver Bear went to Bosnian drama An Episode In The Life Of An Iron Picker (Epizoda u životu berača željeza), directed by Danis Tanović. The film's star Nazif Mujić - a 'non-actor' who plays a version of himself in the film about living on the fringes of Bosnian society - also picked up the Silver Bear for acting. The actress Silver Bear went to Paulina Garcia for her role as an isolated divorcee in Chilean drama Gloria, directed by Sebastian Lelo.
David Gordon Green's Prince Avalanche - a gently comic bromance with an environmental subtext - took home the Silver Bear for best director, while Iranian writer/director Jafar Panahi - who is still prohibited from leaving the country and making movies - received the Silver Bear for best script for Closed Curtain.
The Alfred Bauer Prize for a film that "opens new perspectives" went to Denis Côté for his film Vic + Flo Saw A Bear (Vic+Flo ont vu un ours), about a pair of female ex-con lovers.
Speaking about the awards from Berlin, film producer and Eye For Film critic Andrew Grant said: "Berlin seems to like non-actors, which is what Nazif Mujić is...but honestly, there were no stand-out roles for men this year, save for the boy lead of Emir Baigazin's Harmony Lessons, Timur Aidarbekov, who really should have won.
"The actress award was no surprise - many thought Paulina Garcia would win, but she faced some stiff competition from Juliet Binoche (Camille Claudel 1915), Catherine Deneuve (On My Way) and Luminita Gheorghiu (Child's Pose). But still, this was well deserved."
A Silver Bear was also givent o Aziz Zhambakiyev for the camerawork in Harmony Lessons (Uroki Garmonii), with Special Mentions going to Gus Van Sant's Promised Land and Layla Fourie, directed by Pia Marais.
Aussie filmmaker Kim Mordaunt also had a great day, taking home the Crystal Bear for best film in children's section Generation Kplus and receiving 50,000 euros and the Best First Feature award for The Rocket.
The Golden Bear for Best Short Film went to The Runaway (La Fugue), directed by Jean-Bernard Marlin, while the short film Silver Bear went to Remains Quiet (die ruhe bleibt), directed by Stefan Kriekhaus. The nominee for the European Film Awards is Mystery (Miterio) by by Chema García Ibarra.
Earlier in the week French documentary filmmaker and producer Claude Lanzman received the honorary Golden Bear for his work, including nine-and-a-half hour documentary Shoah.
Speaking of the 63rd edition of the festival overall, Andrew added: "Though there were no surprises in competition this year like last year's Tabu, it was one of the strongest lineups in years.
"Interesting that none of the more established directors walked away with any of the major prizes (Hong Sang-soo, Ulrich Seidl, Bruno Dumont) but the prizes were mostly well deserved, save for David Gordon Green, who was easily out-directed by many."
Share this with others on...