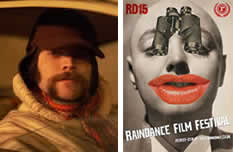 Weirdsville will open the 15th edition of the Raindance Film Festival
This independent festival is "dedicated to fostering and promoting independent film in the UK and around the world". More than simply a festival, Raindance also runs training courses for up and coming film-makers and also hosts the British Independent Film Awards (read our news story on this year's nominees).
New awards for 2007 include the Canon Best Cinematography Award, with the winner taking home a Canon XH A1 HD camera and the Adobe Animation Award, the festival say: "The award winning film will be chosen for its originality and technical proficiency by the Raindance jury and an Adobe animation specialist." The festival will open with Weirdsville on September 25 and run until October 7.
View previous years coverage of the Raindance Film Festival festival:
Raindance Latest Reviews