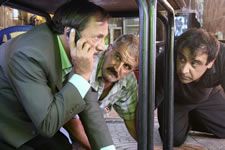 Laila's Birthday will open the festival
The 10th London Palestine Film Festival will take place at the Barbican Cinema from April 24 to 29 (and continue at the School of Oriental and African Studies at the University of London from April 25 to May 8).
It opens with entertaining and thought-provoking drama Laila's Birthday. The programme also features a series of talks and poetry readings concerning Palestine.
Palestine Latest Reviews

Friendship's Death
A war correspondent's conversation with an extraterrestrial amid the chaos of Black September.