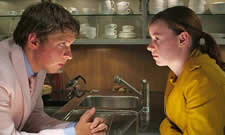 Helen is among the films screening
2008 sees the Northern Lights Film Festival broaden its scope. Previously focussing on films from northern Europe, the Newcastle and Gateshead based event has branched out to include films from across the globe this year. They aim to pick films from up and coming filmmakers and to encourage new talent - and there are plenty of inclusions from these shores this year, including Helen. In order to further boost young talent they are also running a national competition - Moxie Makes A Pitch - which will green light a feature film through pubic vote.
In addition to the features listed below, there is an additional shorts programme.
The festival has also welcomed a new director, Brian Gordon, this year, who aims to build "the Northern Lights Film Festival into one of the most highly anticipated film festivals in the UK and the rest of the world".
NLFF Latest Reviews