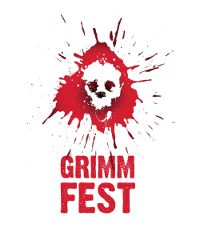 View other Grimmfest Films by strand: Features
2am
(Country: Australia; Year: 2017; Director: Huseyin Hassan; Stars: Mark Kenfield, Nichola Jayne)
A man follows a white rabbit into the corridors of the asylum.
Birthday
(Country: Italy; Year: 2017; Director: Alberto Viavattene; Stars: Roxane Duran, Sydne Rome)
A nurse who hates old people tries to find a present for a woman who has just turned 100.
Born Again
(Country: US; Year: 2017; Director: Jason Tostevin; Stars: Randall Greenland, Ellie Church)
When five bumbling Satanists have their summoning ceremony go horribly right, they're left to deal with the decidedly holy shit consequences.
The Call Of Charlie
(Country: US; Year: 2016; Director: Nick Spooner; Stars: Brooke Smith, Harry Sinclair)
A trendy Los Angeles couple sets up a blind date for two of their friends, one of whom is an ancient evil deity vibrating with pure malice.
Creeper
(Country: Australia; Year: 2017; Director: Drew Macdonald; Stars: Melanie Zanetti, Harry Piaggio)
After a night out, a young woman is unknowingly followed into her home by her "ride-share" driver – resulting in a dangerous game of cat and mouse that explores the lengths people will go to connect in the modern world.
Fierce
(Country: France; Year: 2017; Director: Izù Troin)
A young corporate executive is kidnapped from his apartment. He wakes up in the middle of a forest only to be stalked by a mysterious hunter.
Fissure
(Country: UK; Year: 2017; Director: Paul Wright; Stars: Emma Laidlaw, Amber Tasker, Lucy Hird, Matt Aistrup)
Ten years ago, Kate and James lost their daughter when she disappeared in the park. Kate, who has since struggled with addiction, starts having visions that her daughter is alive but elsewhere.
Liz Drives
(Country: Australia; Year: 2017; Director: Mia'kate Russell; Stars: Sophia Davey, Cassandra Magrath)
For estranged sisters Liz and Ellie being a family has never been easy – but there are some horrors you create yourself.
Nimmer
(Country: Belgium; Year: 2017; Director: Lieven Vanhove; Stars: Geert Vandyck, Sarah Eisa)
Orville is stuck in the house on the cliff, Imme is trying to survive on a rock in the lighthouse in the middle of the roaring waves. He keeps trying to bring her back, but nothing works. Meanwhile, she sends him her sadness through birds.
A Peculiar Thud
(Country: US; Year: 2017; Director: Ross Morin; Stars: Malcolm Mills)
Billy wakes up in the middle of the night to find a man at his door who wants to come in – and won't take no for an answer.
Real Gods Require Blood
(Country: UK; Year: 2017; Director: Moin Hussain; Writer: Tom Benn; Stars: Gillian Waugh, Lyndsay Fielding, Sharon Spink, Gary Overton, Mark Lavery, Kirsty Doyle, Anna Berentzen, Lee Gresty, Avidavit Williams, Richard Owusu, Alkali Reid, Ivy Mattingly, Kamari May)
A babysitter looks after children who claim they are feeding a nightly visitor from hell.
Run Runner Run
(Country: Spain; Year: 2017; Director: Karim Shaker)
A young woman is attacked by strangers when running in the woods near her house.
Sounds From The Deep
(Country: Finland; Year: 2017; Director: Joonas Allonen, Antti Laakso; Stars: Eero Ojala, Lasse Fagerström)
An international research group is searching natural resources from the Arctic Ocean. They pick up a strange underwater sound from far north, and start to follow it to the uncharted waters.
They Make You Grow A Beard
(Country: Ireland; Year: 2017; Director: Anthony Kinsella; Stars: Patrick Murphy, Paul Quinn Jr)
A young father must fight to save his son's identity when he discovers that all of his male friends are being replaced by mysterious douchebag dopplegangers – with beards!