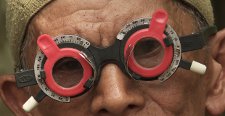 The Look Of Silence will play on opening night
The UK's most popular dedicated documentary film festival returns for its 22nd edition from June 5 to 12. This year it will celebrate its opening night with two events - a screening of The Look Of Silence and the world premiere of The Greatest Shows on Earth: A Century of Funfairs, Circuses And Carnivals.
Among the sections this year is a strand dedicated to documentarian Albert Maysles, who died earlier this year.
View Films by Strand:
View previous years coverage of the Sheffield DocFest festival:
Doc/Fest Latest Reviews
Sheffield DocFest Features