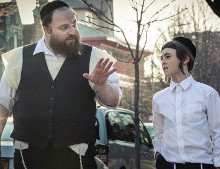 Menashe is among the films screening
The Deauville Festival of American Cinema celebrates its 43rd year in 2017. Aiming to bring the cream of US film to a French audience, guests this year will include Robert Pattinson, Laura Dern and Jeff Goldblum.
The festival runs from September 1 to 10.
View Films by Strand:
View previous years coverage of the Deauville Festival of American Cinema festival:
Deauville Latest Reviews
Deauville Festival of American Cinema Features
Deauville Festival of American Cinema News