Being Thunder
Photo: Inside Out
Films which engage directly with Native American experiences are still few and far between. Combine that with another minority experience and it's extremely rare to find any kind of representation. Being Thunder is a documentary exploring the experiences of a young two-spirit person, Sherente Harris, from the Narragansett tribe on Rhode Island. Two-spirit traditions exist in many Native communities and are a way of looking at the existence of masculine and feminine identities within a single person. they used to be associated with specific social roles and valued as members of the community, but prejudices absorbed from white America have changed that in many places, and film follows Sherente's struggle for acceptance at the same time as trying to deal with other aspects of life like getting into college.
Part of this year's Inside Out in Toronto, Being Thunder is the work of French filmmaker Stephanie Lamorre, who told me that she thinks it's time to get beyond fictional works like Songs My Brothers Taught Me and depressing narratives about alcoholism and reservations to look at other aspects of Native people's lives.
In particular, she notes, there's a shortage of stories about Native people on the East Coast. I suggest that this is a significant omission because European settlers arrived there much earlier than in other parts of the continent, so their experience of contact and eventual conquest was very different and left them in a different position from more westerly peoples.
"Exactly," she says. "And I think many people don't really think about that, you know? For many people, I think, the Native American community is just one community, it's kind of the same history, whatever. I mean, it's not so."
Does she think that extends to people's understanding of gender models, if they understand those at all, and gender differences in different Native American groups?
"Yeah. Those coming from the West Coast are much more connected still to their ancestors and roots because the colonisation was almost 200 years later. So in this case in Rhode Island, it's much more difficult for them to keep alive something of their tradition. The two-spirit people were medicine people before and they kind of lost this tradition. I've seen it. I mean, people in Sherente's community are very" – she hesitates – "offensive, actually, and very critical about Sherente for being two-spirited, which is certainly an anthropological tradition, and they lost it because of the colonisation. It could be something powerful, not something critical for them."
She met Sherente, she says, when she was already in the US and looking for a young Native person to work with. Sherente had made a video, dancing and singing with a friend, which grabbed her attention.
"I was like, 'Oh, wow, I love that!' I loved everything. The energy, the song, everything. And I mean, there was just one detail saying Sherente and Keke are part of the Narragansett. So I researched that and I found a Narragansett language centre, and I send a message, you know, but it was really like, 'Hello from nowhere.' And finally the grandmother did answer me. And she said, Yeah, sure."
Before she new it, she was talking to Sherente's mother by email, and was invited to go and visit the family home. This gave her immediate access to the local community.
"They really welcomed me," she says. And then they were bringing me around with them, so it was super easy for me, because they were really this fast to access to people, you know, and people were welcoming. But I really stayed with the family [as subjects] because I didn't want too many people, I really wanted a very intimate interaction with this family."
Did that help to keep the story positive, given how accepting the family was?
"You know, it's true. I mean, the family is very supportive and loving to Sherente – an amazing, amazing family. So I mean, they know. It's not always like that. There was an equilibrium. This family is giving a lot to Sherente and there's a lot that that Sherente is giving to them. It's very, very close family and the grandmother, she's very important for sure. And we spent many, many moments together."
Sherente was initially quite shy, she says. She was glad to see that change over the years in spite of all the difficulties. Assuming the double spirit was not easy, but now Sherente is very vocal, giving speeches and presentations, and in many ways taking on the traditional forms of leadership associated with it.
There is another two-spirit person in the film who had a tougher time, without the benefit of an accepting family. Stephanie hopes that this will show viewers that it's still not easy, as well as explaining something of how important it is to them both to be able to express who they are and teach the old traditions.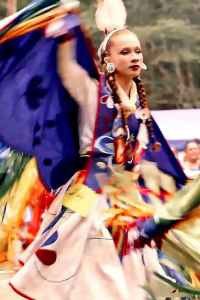 Sherente Harris in Being Thunder
"It's a work in progress. Some things they have to express and keep and talk about. It's not like, 'Oh, yeah, okay, we'll return to medicine people.' It's a work in progress and I think the first thing you have to do is show that."
Something that I like about the film, I say, is its exploration of the difference between being two-spirit and fitting into Western ideas of how gender works – not being the same as a trans woman, for instance.
"Exactly, exactly," says Stephanie. "Because then people want to put that person in boxes. You have to be like this or like that, you know? We need something clear. So you are this or you're that. If you're this, you have to be like this, and that like that." The more so, she says, when someone is comfortable in their body like Sherente and doesn't want surgery. "Sherente's saying, 'I don't want to do any surgery and I am who I am,' you know? 'I don't want to change it, just accept me as a person.' I think it's a very universal message to say 'just accept people as they are.'"
Taking on both gender and the cultural aspects of Sherente's story has, she hopes, helped her to get a fresh angle on both that will be interesting to viewers, but because of Covid-19 she's still waiting to see how audiences will respond to it.
"I'm very curious about how people will react, what's new to them. I hope they understand, at least, Sherente. And this, to me, is a really, really large documentary, which was really important for me. Because they trust me, you know? They trust me, they let me film for weeks and weeks and weeks. It's always very tough to let someone you don't really know film you, and if you're lucky, it's a gift. Each time I'm filming, I really feel that people are giving something. So you have to be really humble and grateful for that."
Part of how gender is expressed in Narragansett communities is through dance. I ask Stephanie how she approached shooting the dance scenes in the film in order to help non-Native viewers understand their significance.
"The first time I went to a pow wow, I cried it was because it was very special. The first was a very intimate pow wow in Rhode Island, in the forest. It was very emotional for me, and a very good lesson to learn how to feel about the day, because it was very intimate. I was the only person filming. So it helped me a lot to feel really close to the people even more. I literally cried at the dance. I don't know – it was very, very strong. And I felt very connected to the people and to this land. If any, I'm not Native American but I think there's a part of my personality which really connects with people. And people connect with me. It helps, you know, to express with images, what I'm feeling."
So finally, how does she feel about the film having been chosen for Inside Out?
"I'm so proud and so happy," she says. "Really, really super happy and proud and super happy for Sherente as well. You know, it's really about people investing, understanding the story, the history and what is happening. It's not about me, it's about Sherente and this community."
Share this with others on...