Dara Devaney as Finky. Dathaí Keane: 'I knew a feature film would have to have a strong lead, so I wrote a character-driven piece for Dara'
Photo: Courtesy of Tallinn Black Nights
Irish director Dathaí Keane made his feature film debut in the First Feature competition at
Tallinn Black Nights
film festival with Irish-language film Finky. Starring Dara Devaney - who also features in
Arracht
(read more about the scheme involving the two films
here
) - Finky sees its central character go on an off-kilter odyssey as he tries to come to terms with guilt. It's a journey that sees him run into physical as well as emotional trouble, after he leaves Ireland on a whim for Scotland. Keane is bilingual, and wrote the film in Irish, with co-writer Diarmuid de Faoite.
The writer/director says: "It was worth doing it that way because you end up having something very organic and within the language then."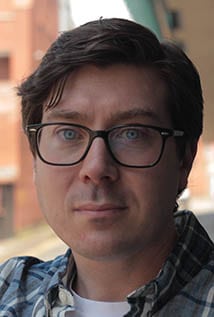 Director Dathaí Keane: 'I seem to return to characters who maybe have some darkness in them'
Photo: Courtesy of Tallinn Black Nights
Keane says his parents weren't from the Gaeltacht, but "had a very great love for the language, so we went to a school where only Irish was spoken and we spoke Irish at home as well as a family". They also moved about a lot when he was a child, which Keane says has influenced his writing.
"I seem to return to characters who maybe have some darkness in them and characters who tend to travel," he says. "A lot of the stories I'm working on are about people who have left Ireland and come back again or who have gone somewhere else. I think that's something that was part of my life.
"My parents emigrated to Canada and both my brothers were born over there. That's kind of when they came back because they wanted us to be immersed in our culture and our identity, but we still went travelling every couple of years. I would spend six months over in America, in the school system over there and a couple of months in Italy growing up.
"I think it gives you a perspective on your home as well. Even in terms of something like Finky, which is an Irish-language film, my perspective of having a bilingual approach to things  is that sometimes you can see things a little bit differently or see things on a different level. I remember hearing someone say that if you're introduced to different languages at a young age, it helps your level of thought and helps you to think about things from different perspectives. There's a fluidity to it."
There's also a fluidity to the film, which moves from social realism to more fantastical elements, which include Finky signing up for a circus. And Keane says he had "a bit of a juggling act" when it came to the movie's different moods.
He adds: "That came more into the shooting of it than in the writing. You're always thinking about how you're going to shoot the thing, how it's going to end up looking on screen. But really then, it was working very closely with Carl Waters, who was the great DP on it, when we started thinking really closely about how it was going to be realised.
"As the story progresses, it gets slightly more surreal and absurd and we wanted to make sure that was present from the very beginning of the story. So it starts in the theatre at the start. The bold colour scheme is there from the very beginning, so that when the story does go on these slightly more fantastical turns, it doesn't become too jarring and it feels like a coherent story from beginning to end."
Keane makes strong use of colour to help generate the mood in his film and control the more surrealist elements.
"Some of that credit goes to Mark Kelly, the production designer and costume designer Triona Lillis, who worked together," he says. "Sometimes because you're working with low budgets, we had to think about specific items more than changing the entire colour scheme of the location.
Dara Devaney in the film. Dathaí Keane on the use of colour: 'Creating those connections for the audiences between what's happening before goes to Scotland and then his adventures over there'
Photo: Courtesy of Tallinn Black Nights
"If you went to a hospital location, you cannot go painting every single wall in there - but you can maybe pick certain walls and introduce a certain colour in one area and focus on that more. Especially costumes, you can do it quite well with those. Finky's red hat and certain colour schemes that we chose to bring associations - like Nellie with her association with the blue side of things, which ties in a little bit with the blue fairy of the opening prologue. Creating those connections for the audiences between what's happening before goes to Scotland and then his adventures over there."
The film, which sees its central character undergo a crippling transformation, also directly references Tod Browning's Freaks, using the "Gooble Gobble, One of Us" chant.
"For me a film like Freaks or some of Herzog's stuff, like Woyzeck, are interesting because you have characters that are looked down upon by society or are outcasts but really, at heart, they're every bit as worthy of love. Freaks is great because people who are called 'freaks' are the more noble ones in it by the end and have a sense of respect and love for each other, whereas the 'normal people' in that film they have no heart and are abusing their fellow man. Freaks even gets a reference in the film, when they use the chant - we wove that in as a little homage to Tod Browning."
Keane's central character is an anti-hero who, even when people are trying to help him, lashes out. "For me, he's a bit of an everyman as well," says Keane. "He is somebody who has had bad luck and I think he blames himself very deeply for what has happened. He carries all his shame and guilt and trauma within himself. If you talk about the theme of the film, it's about someone trying to find forgiveness and redemption."
Fionnuala Gygax as Neilí. Dathaí Keane on the actress: 'She had the kindness and the innocence but also a little bit of steel in her when she needed it'
Photo: Courtesy of Tallinn Black Nights
When it came to casting, the pool of actors working in the Irish language is still quite something - something I also
talked to
Arracht director Tom Sullivan about. "It's very limited but it's getting better now because people see the opportunities," says Keane. "But, for instance, when they announced this scheme, I specifically wrote this script for Dara. I'd worked with him before on An Klondike, a TV drama series I'd done. Casting for me is 90 per cent of the game - Altman would say it's the whole ball game. I knew a feature film would have to have a strong lead, so I wrote a character-driven piece for Dara. Then casting around that, I had worked with Ned Dennehy before, who plays the circus ringmaster, before - so I did sometimes have people in mind. I didn't know who was going to play Neilí, so I was just delighted when I met Fionnuala Gygax because she had the kindness and the innocence but also a little bit of steel in her when she needed it."
Asked about the step across from television to film, Keane says: "For me the big difference was more so in the edit. That was the biggest learning experience for me. So much of TV is script led. You go out and you shoot your script and you tinker with it a little bit but generally it's all kind of there. Whereas, with the feature film, myself and Dermot Diskin - an amazing editor - spent a lot of time finding the film in the edit. We ended up getting back out and doing a pick up couple of days that really kind of cemented things like theme. To make sure we foregrounded and underlined what's important here." Keane has a BBC Studios project coming up next, called Smoulder.
He adds: "It's a six-part drama series that is set on the west coast of Ireland about a family that has a lot of dark secrets. That's in English and it's very exciting - there's some great writers involved in it, including Kate O'Riordan."
For the future, Keane expects to keep working between film and telly.
He adds: "In Ireland, as a working director, the amount of opportunities to make feature films are limited. So I think, for the time being, I'll be moving back and forth between TV and film. I have a few features in development which I'm really hoping to get to shoot in the next couple of years as well."
Share this with others on...