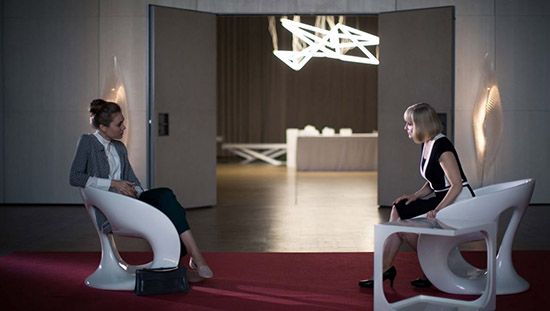 Now available for home viewing after making a big splash on the festival circuit, science fiction body horror tale Replace has a distinctive look that's hard to forget. In the first part of our interview with director Norbert Keil, we discussed ageing, memory loss and his work with Rebecca Forsythe, who plays troubled heroine Kira. In the second, I started by asking what inspired him to make the film look so different.
"I've always described it as a monochromatic Suspiria, he says. "Because Suspiria, much as I love it, I wouldn't do it today, because it offers three or four very strong colours in one frame and that gets a bit busy. I love it. I'm not criticising it at all - I wouldn't dare criticise it. But the way I wanted to make Replace, even back when we first started out, I said I wanted it to look like Suspiria only monochromatic. Like really all red and all green and all black.
"Like a monochrome Suspiria"
"As soon as Tim [Kuhn], my DoP now, came on board, we sat down and discussed the look more thoroughly. We made the decision to put the audience in [Kira's] head and try to make visuals that transport her state of mind, so in the beginning everything is very hazy and backlit and blinding us because she's really in a fog of trying to remember, trying to find a way. She's very disorientated so we tried to disorientate the audience with the visuals. We used a lot of filters for that, so that's why everything in the film in the beginning has a very glowing feel. Even if the sky is overcast it's still glowing. We only lose that once she learns everything.
"In the facility, in the end, in Dr Crober's operation room we still have those lights but it's not hazy anymore. Everything is very crisp and clear."
How did he approach filming the gory scenes that are inescapable in a film about a woman whose skin is falling off?
"We actually cut one!" he laughs, then ponders the question for a while. "I always wanted to make it very sensual because for Kira - it's also something we talked to the choreographer about. I wanted her movements to be like those of a maionette that has rubber bands attached to everything. She tries to go there but something tells her always, in her mind, this is wrong, what I'm doing. So she's walking like a panther attached to a lot of rubber bands, up to her prey.
"For Kira, once her urge takes over and she kills, it's not a kill made out of lust for murder or lust for blood or anything else but her fixation on fighting her own ageing process and getting that skin, so she falls in love, not with the victims, but with the skin. The first night that Sophia [a neighbour who becomes her lover, played by Lucie Aron] spends in her apartment, where Kira almost touches her skin and is tempted, potentially - the audience is free to make up their minds about what the temptation is, if it's sexual or if it's the skin, just the skin. Or if it's both, maybe.
"Rebecca and me, we tried to approach all the kill scenes so that they actually do incorporate both the sexual aspect of touching someone's skin and getting very intimate and, of course, that almost vampiric need that her body has for healthy skin."
Did he feel that he was making a vampire film?
"Yeah, absolutely. Yeah. Very early on someone said 'Oh, so she becomes a skin vampire!' and I'm like, 'Yeah, that sums it up pretty much.'
"Also, about the gore scenes, they are pretty gruesome and bloody, just because we said, okay - with the one exception of the girl that crawls out of the bathtub, she has lost way too much blood - but everybody else is bleeding as much as they would, and that's what I wanted. I tried to make it as natural as we could on the budget that we had and with the production circumstances that you always have to deal with.
"I probably should spend my days thanking everybody that's enabled me to make that film. So many people worked for hours and weeks and months, not for a lot of money."
He's clearly very happy with the result. I ask him what else he feels it's important to say about it.
"We tried to put some social commentary in there and I hope that that comes across. A comment bout how far people might be willing to go and, actually, already are - people are doing the craziest things to their own bodies to make them more appealing, to reverse the ageing process. So I hope that comes across.
"I'm also really glad that nobody ever criticised me for making it a same sex couple. It doesn't get a lot of specific press, which is a big relief for me in a way, because when I talked to my actresses we were always discussing the LGBT angle of the whole thing, and I'm like 'No, no , no. This is not a point of the film at all.' It just is. It's just a girl and she just falls in love with another person who happens to be a girl. So I'm really, really glad that nobody makes a big thing out of it, and they accept it, and that makes me happy. Do you know what I mean? I'm straight but I have a lot of friends who are gay and I love them as much as all my other friends."
I suggest that it's actually a good thing when LGBT people can be represented in films without it having o be a big deal, when it's just part of the background, and he agrees. What really stood out to me, I say, is the way that the film revolves entirely around women, which is still a rarity today.
"Dr Crober actually was written for a man," he confesses. "When we thought about who to cast, there were all kinds of names being thrown around, and there were long lists, like the kind of lists you make when you go and think about who to cast and you list lots of weird and interesting and fun people, and super famous people of course. And then Colin [Geddes] and Kat [Gligorijevic], I sat with them and my producer Felix [von Poser] in Toronto and I honestly don't remember who made the suggestion to cast a woman, I only know that I was like 'Yeah, totally.' That would add so much - it made so much sense to cast a woman in that, much more than casting a guy. And then Colin said 'We could ask Barbara Carmpton' and I was like 'Oh my God!' I met her in L.A. and I sent her the script and it was still Mr Crober and I wrote to say that that part was written for a man so don't worry about that, we'll make all the adjustments that we have to; but when I sat down I realised I didn't actually want to make any adjustments - only, of course, in the grammar. That mad scientist part, it has its characteristics regardless of it being a girl or a boy.
"During rehearsals we found that for Barbara her performance worked best when she was basically talking to her kids. She has two wonderful children. So in the end, when Dr Crober scolds Kira, it's like Barbara scolding her little son. That's also something that I think was brought to the film, that motherliness."
And how does he feel about the way the film has been received at festivals?
Dr Crober examines a tissue sample
"It's another one of our many blessings really. From our world première at the Brussels Film Festival, where we had like 800 people in a huge cinema and everybody was crazy and loved the film. Right off the festival we got invited to a bunch of other festivals and got to go to Busan in South Korea and to Fantasia and to Frightfest in London and so many great festivals, all around the globe. I think it's being received wonderfully. I never expected everybody to love the film - I don't know, anyway, if there is a film that everybody loves, probably not - and a bunch of festivals turned us down as well, but the overwhelming majority of reviews and festivals seem to like the film.
"Whenever I go to festivals I get a lot of great feedback, especially about the things the film has to say, and then of course also about the look and the technical presentation. Most important for me as a director, of course, is what people take away from it, and I think they will continue to think about it. I feel blessed and I'm really happy with how it's being received, and StudioCanal is releasing it in the UK which is amazing. And that great reception of the film has also helped me move on to my next film, hopefully! Things are looking good."
Share this with others on...