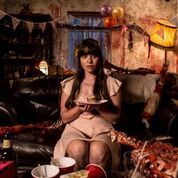 "After we made The Creature Below we wanted to make something different - bigger, more badass exciting entertainment," says director Stewart Sparke, explaining why he and collaborator Paul Butler have chosen Book Of Monsters for their new project. It's the story of an 18th birthday party beset by the worst kind of gatecrashers. As six different monsters try to break into the home of Sophie (Lyndsey Craine) to devour the guests, she and five other young women who have no interest in being victims prepare for the fight of their lives. But what really makes the film stands out - at least at this stage - is the way it's being made.
Stewart and Paul have taken their Kickstarter beyond the usual invest-and-get-some-merchandise model. Big horror fans themselves, they wanted to give others the chance to be part of the action. By investing as little as £10, fans can get to vote on which monsters should be in the film, what other unexpected guest will arive at the party, what Sophie's strangest birthday present will be, how one of the guests will die, which horror cliché needs to be twisted and what unlikely weapon will be used when all seems lost. For larger contributions, two investors even get to name characters who will face gruesome deaths.
All this sounds like a lot of fun, but also like something that could go spectacularly out of control. Isn't the biggest nightmare likely to be keeping control of the script?
"We thought about this for a long time," Stewart says. "The idea is that the audience choose six major story elements but the framework is there. It's like a jigsaw puzzle. There are a few pieces we've kept on the side. We're confident it will work out. For instance, there's a choice of six categories of monsters and there are three monsters in each category so there are 18 monsters altogether but whichever ones people choose, they will serve the same purpose in the story.
"We're huge horror fans and part of the fun when you watch horror is how people shout at the screen 'Don't run that way!' and 'Why are you splitting up?' We couldn't give away too much control but we wanted the audience to get to feel that they made a big difference to the story."
How did the story itself originate?
"It started as a short film called Sweet 16 which we were making for the Horror Channel's Short Cuts To Hell. We loved the idea but we soon realised there was too much to fit into a short... We wanted to take the same approach we did with The Creature Below in some ways so it contains some of the same themes and it has strong female characters kicking ass and taking names, not running screaming."
Some of the other Kickstarter rewards are unusual. One really stood out - the chance to win a copy of the film on VHS.
"VHS is having a bit of a revival at the moment," Stewart explains. "You have vinyl which has been popular for a while now and VHS is similar among movie buffs. I know so many people who go out and try to find old VHS tapes. There are a lot of horror films that never made it onto DVD.
The film itself is very much a throwback to Eighties and Nineties genre film. The way we've done the poster is a bit like something you might find on a worn VHS cover. And it's not like a dvd, where it can be mass produced. You have to sit there and transfer the film by hand, so that makes it worth more."
It's all about having something rare and special, he says, which fits with his personal approach to film.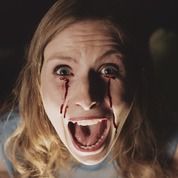 "I'm always in HMV scouring the shelves for cool new films I've never seen or that I missed at the cinema. Artwork is always something I'm really interested in and that collectors are really interested in. By doing this we can offer signed copies and personalised messages that no-one's going to get in the shops. I have lots of horror movie posters on my walls and I'm a big Star Wars fan too. Limited edition prints are something I'm really into."
Unlike most horror film producers who look to crowdfunding for help, Stewart and Paul are not planning to scrape by on as little as they can get away with. This is a film they want to make properly, so their target figure is £45,000. It's ambitious, but early responses have been good. If it's successful, this interactive approach to filmmaking could have interesting consequences for the future of the genre.
Share this with others on...