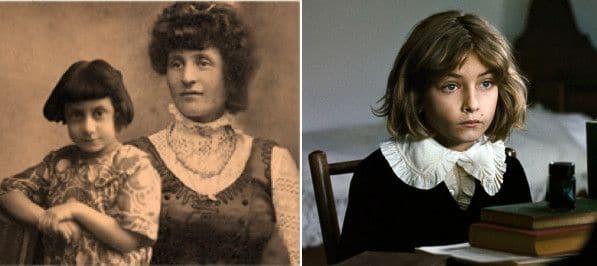 Photo of Mussolini and his mother 'inspired a lot of the movie', including Tom Sweet's character, right
Brady Corbet's
The Childhood Of A Leader
tells the story - in a series of episodes - of a child (Tom Sweet) in post-First World War France who goes on to be a prominent fascist. Elliptical and impressionistic, the narrative shows the day-to-day interactions the boy has with his fiercely religious and strict mother (Bérénice Bejo) and, frequently absent, diplomat father (Liam Cunningham), who is in France to work on the Treaty of Versailles. Taking both the best debut film and Orizzonti best director awards in
Venice
The Fits
- it has a confidence and audacity rarely seen in first features.
Speaking to Corbet about the film at this year's Edinburgh International Film Festival, he explained that it was a long-time coming but that it didn't matter because, as the film argues, the themes within it are cyclical and timeless. Begun 10 years ago, his inspiration came, in part, from a photograph of Italian dictator Benito Mussolini sitting on his mother's lap.
"Mussolini was about five years old and that photo inspired a lot of the movie," says Corbet. "He was a very effeminate little boy, and I thought that there was something funny about the fact that he was so delicate and so vain given that he would grow up to be one of the most notorious misogynists and philanderers among many other things. I just thought it was something very interesting about the fact that this boy's appearance was so important to him."
Sweet's character - whose name I won't mention as it provides a pay off late in the film - has long hair that is clearly important to him even though it is never discussed. "There's a lot of things that I include that are just for intuitive reasons," Corbet adds.
He says that given the current political climate - particularly with the rise of Donald Trump - the question of the rise of the right once has been coming up "for obvious reasons".
Corbet: 'I was speaking a lot on the set about Anselm Kiefer, saying I really want to have Victorian via Anselm Kiefer, everything should look like it's sprayed down in acid'
"I think this is the reason that I held on to this film for so many years and was so intent on seeing the film get made," he adds. "I just felt that it was always going to be relevant. I think the sad truth is it could be released now or in five years, 10 years or 100 years and it would still be relevant in one way or another. When I started writing it was right at the time that we'd gone to war in Iraq. Margaret MacMillan's book Paris 1919: Six Months That Changed The World was sort of the impetus for starting to write this. What struck me was how little American foreign policy had changed in 90 years, so now we're 100 years on and it's the same. Over and over and over again.
"I thought it was incredibly haunting that when I was reading Margaret's book, how much of it seemed relevant at that time, so now 10 years later, of course it's still relevant."
The film is gripping from the outset, with an Overture segment, scored with furious pacing and high orchestration by Sixties pop icon Scott Walker, who has gone on to forge a career at the bleeding edge of the avant garde,
"It's kind of simple, if Scott wouldn't have done it, then I wouldn't have hired someone else," says Corbet. "If he hadn't agreed, then I was just going to make a film without a score. In terms of what I had in mind for this movie, there just wasn't anybody else. You can go right to the very best – Philip Glass or John Adams – and nobody's going to give you that. Scott's been making the most cinematic music around for the past 30 years. I think people are really responding to this because it's the right prism through which to view it. His work is inherently challenging, melodic, exciting, it's all of these things. You have to listen to his albums the way that you watch a film.
"The one thing I knew about Scott and his music, was that we would never be able to sneak it in it was going to have to be on top of the mix. Then I went one step further and after Dolby came to master the film – there's a lot of rules out there and Dolby come in and tell you how loud it can be – and as soon as the guy left we turned it up.
"I wasn't feeling it, you know. We were in an auditorium and I was, like, 'I don't care if we break the fucking monitors, you know, punk rock isn't dead'. We mixed it outside of the Dolby standard and that suits Scott's music well. You know, he mixed the score but he wasn't involved in the mix of the score in the film. My feelings about music in movies is I either want it to be incredibly present, a character, a force or I don't want it at all. I think that silence is just as important as being noisy."
Corbet was also meticulous about the opening archival sequence, which proved to be very difficult to put together.
"Basically what happens is British Pathe and all these companies that own a lot of these images – they don't actually own the images, they own the copies of the images. So, what they've mostly done is made extremely shitty scans – very low quality scans of the original negatives and they sell it an insanely high price, something like £200 or £300 a second.
Anselm Kiefer's Interior, 1981
Photo: Anselm Kiefer
"So considering that we had about five minutes of archive in the film we, of course, couldn't afford that. So we spent months and months basically tracking down the original negative and making our own scans. My editor Dávid Jancsó, who edited White God and all of Kornél Mundruczó's films. His father is a filmmaker, the great Miklós Jancsó, so Dávid is extremely knowledgeable about film preservation and cellular post-production in general because he handles a lot of his father's archives. And thank God I had him. I suppose that the idea in general was, well, whether audiences connect with the content of that footage – 'Georges Clémenceau And Woodrow Wilson arriving in Paris. I think that it set a wonderful tone and I didn't make sense to open the film like a docudrama with a scroll that said: "In 1919, Wilson and his team arrive, etc, etc.' Especially since it dives off into total virtual history by the end of the film. So it's kind of like, I remember the first line of the script is, 'The past is supernatural' and it somehow, if we didn't ground it in realism, then it might be problematic, so we went back to the original frame rates of all the original negatives as well so it has this very jerky, hand-cranked quality."
That the devil is in the detail for Corbet should perhaps come as little surprise as the actor-turned-director has worked with some of Europe's best known auteurs, including Lars von Trier (Melancholia) and Michael Haneke (Funny Games). The film certainly generates a similar sense of creepy dread from the inconsequential employed by both those directors. In addition to moody atmosphere and the visceral scoring, the sets also have a tactile, painterly quality, with inky blacks and drab browns punctuated by puddles of light.
"In regards to the light, there are two things in general," says Corbet. "One thing was that we always new that we would shoot in very low lighting conditions, mostly to give it a sense of authenticity, there was a strange mix of a little bit of electricity and some gas light, which is what it was in 1919. And then the other thing was that my production designer had painted the walls of the house seven times.
"He came to me and said, 'Either we can pack the space with a lot of furniture or we can use the next four weeks to paint the walls seven times.' I said: 'You know, elaborate.' And he said, 'If we paint it gold and green and red and gold and green and red,' And I was speaking a lot on the set about Anselm Kiefer, saying I really want to have Victorian via Anselm Kiefer, everything should look like it's sprayed down in acid. So he said; 'OK, what I suggest is that we go through this process. You're going to be a little bit frightened because you're not going to see any furniture on the set until two or three days before you're shooting which means you can't block very specifically with the actors and things like that because they have nowhere to sit. However, when you come in into the same room at 8am versus noon versus 5pm, I guarantee you there won't be a direction you can look in that isn't beautiful to look at. Considering that we're in so many of the same spaces for the duration of the movie, this is the best thing because it'll never look the same twice.'
"Then Lol and I just responded as intuitively as we could to the design."
There are two key sequences in which the camera spins, disorientating the audience and proving controversial - even at the time the script was written.
"I think that the idea was that the film would be quite dizzying, literally," says Corbet. "Before we made the made the movie, I remember sitting down with various institutions trying to raise money for the film and just as controversial as the ending is, when it was realised, it was very controversial in the script. There were a lot of people who just wanted me to cut or change the ending. There were people who wanted me to end the movie when the boy was on the stairs which I thought was basically a cop out. There's a difference between having the thought that history is doomed to repeat itself and feeling that history is doomed to repeat itself. And then, I said, 'I promise, whether people understand the ending in a very literal way or not, I guarantee they're going to feel it.' And so, we were looking for a place that kind of had this blend of brutalist, Stalinist vibe mixed with neo-Classical. A building that was representative of almost the entire 20th century and we found that.
"One of the first draws for me about shooting in Hungary was that building. It's the national television building, it's been gutted and they're turning it into a mall, naturally. Nothing ever gets done in Budapest, prime minister Victor Orbán is a joke, so we'll see. I was told we were the last ever people to shoot in that square because he's going to be moving in. I thought it was quite funny, I don't know if that actually happened or not but that square is a very famous square in Hungary and it's where the national art museum is, so I guess he decided he wanted to own that collection. He's a real charmer.
"There was always a dream sequence in the film about the building. It was a paragraph in the screenplay, it just described a neo-Classical nightmare."
In the second part of our interview with Corbet, he talks about the film's poetic logic, Christianity, the cult of celebrity and Robert Pattinson.
The Childhood Of A Leader is in UK cinemas from August 18, watch the trailer:
Share this with others on...