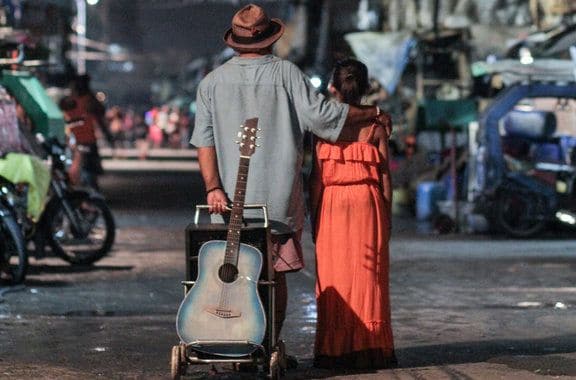 Cydel Gabutero and Peter Milari in Blanka. Kokei Hasei: 'I think many films are very violent but I wanted to share good humour and positive energy'
Japanese director Kohki Hasei's feature debut
Blanka
is set in the slums of Manila where its eponymous heroine (Cydel Gabutero) gets by on her wits and whatever she can steal. When she meets a blind musician (Peter Millari) things begin to change for her and she hatches a plot to try to buy herself a mum. A warm fable that explores what the idea of 'home' really means for people on the fringes, the film is part of this year's Biennale College at
Venice Film Festival
and available to watch online via Salaweb. We talked to Hasei about making the film.
AW: You've made documentaries in Manila prior to this film - did the people you met inspire you?
KH: I visited Manila over 10 years ago and every year, at Christmas time, I visit the slum and spent a lot of time with all of the kids and my friends at the garbage dump site.
AW: So you thought the children's story would be a good one to tell
Blanka director Kohki Hasei: 'I try to keep the spirit of the kids in my heart'
Photo: Carmen del Prado
KH:
I spent a long time with kids living on the street. When they're six years old or 11 years old or four years old, they don't care what they're standing on - even on garbage or in a cemetery. They don't care who is rich or who is poor - they are working, surviving. But at the same time they are playing, with joy and pleasure. But when the children get older, they become more aware of society and how it's going and some of them fall into drug taking and give up because they are in such a harsh situation. I want to show we were all kids. And I want to spend time to make film with kids who have such a great energy.
AW: The film is very positive. Quite often films from the Philippines that comes to festivals are gritty and quite violent but an older child could go and watch your film and get something from it.
KH: I'm Japanese and I think many films are very violent but I wanted to share good humour and positive energy. I don't want to make people depressed. I'm old enough that I don't want to share a violent feeling with an audience. A lot of filmmakers take money and make depressing films for people. I want to give a good energy and a new point of view.
AW: How did you cast the film?
KH: It took two months - I was just walking the street every day from 9am to 6pm. I wanted to work at night in the slum as well but my assistant wouldn't come with me because it is so dangerous. The main character isn't from the street - she comes from a very small village on a beautiful island. My producer found her on Youtube while I was writing the script, so I wrote it with her in mind. But when I got to Manila and asked my crew to find her, they couldn't, because she was living on a different island. We almost gave up but two weeks before the shooting started, we found her. The blind man I met three years ago on the streets of Manila. Again, I asked the crew to find him and we couldn't for a month. It was so hard to find him.
AW: Did casting the film partially from kids who lived on the street help you to make it more authentic?
KH: I have to say, Filipino people are such talented people. They are great. We had a 10 or 12 day workshop for the acting, quite short. Our first assistant director and whole crew were so great. They helped me when I wanted a shot with Blanka smiling and crying at the same time - that's hard for an 11-year-old kid. So, what happened was we were rolling the camera and all the Filipino crew behind the camera started singing naturally and making jokes and then, because it was near the end of the shoot, everybody said goodbye to her - and the emotion I wanted happened.
AW: There's a lot of music in the film - and it's very important to the atmosphere.
KH: Yes, the song the main character sings is a very old song from Spain - because the Philippines was colonised for 400 years by the Spanish. I wrote the lyrics in Japanese and then they were translated into English and then a woman in the Philippines translated it into Tagalog. The lyrics are very connected to the storyline, they are very important to me.
AW: Have the children seen the film yet?
KH: Not yet but I really want to show the film to the Filipino kids. I'm sure I will bring it to the film to show the kids in the slum. The kid who plays Sebastian [Jomar Bisuyo], is living in really, really harsh slums and I want to show them it. I showed the short film in the cemetery there, where I shot a short film before.
Peter Millari and Cydel Gabutero in Blanka
AW:
Is it difficult when you work with kids like Jomar, is it difficult to then leave them still living in the slum?
KH: I try to keep the spirit of the kids in my heart. For me, it's easy to communicate with the kids, they treat me on the same level, we are friends. It all depends on your point of view. I mean, I'm from Japan, so I went to the slum and I feel different. But if you spend a long time in the slum, it becomes normal. But it's very important to have education and health support. That's it. I was sad because I made one short film with a little kid who lived on the garbage dump. I met him when he was eight and he was so beautiful. Now he is 18 and I met him this year and he's drug-addicted , so it was so sad that I couldn't do anything for him and I live with regret. But what I can do, is show some of their feelings through film.
AW: Do you plan to make more fiction films in the future or documentaries, or both?
KH: My dream is first I want to keep making fiction films and I would like to work with kids in slums wherever in the world. I have been travelling a lot - South Africa, Jamaica and I lived one month with the Romany in a small village in Romania. I really want to work with all those people. The point is that I can share the hope and joy of people with the audience.
Blanka is available to watch until September 10 on Sala Web - which is screening 15 films from the Venice Film Festival, priced 4 euros each or 2 euros each if you buy a pass to see five or more.
Share this with others on...