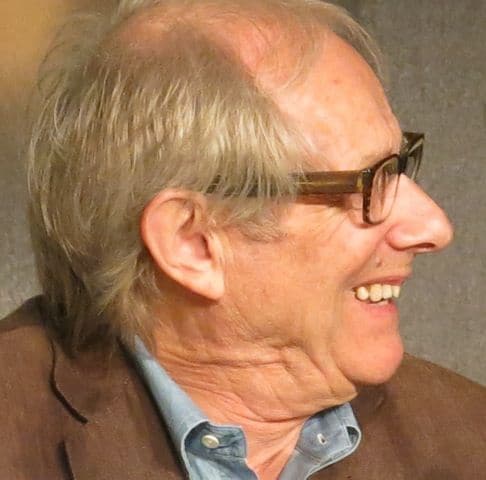 "We'll watch World Cup soccer and see what the autumn brings."
Photo: Richard Mowe
Despite saying at one point before the making of his latest film Jimmy's Hall (on release from Friday 30 May) that it would be his last narrative outing, veteran director Ken Loach, 77, has had a change of heart.
During an encounter at the Cannes Film Festival, Loach who has been a regular participant at the Riviera event, said it was "hard a job to give up."
So why had he gone on record considering retirement as an option? "I said that in a moment of maximum pressure when we hadn't shot a foot of film and the mountain in front of us was quite high, and I thought, I can't get through this again.
"You're knackered from all the prep and you've been away from home for a long time and you still have to get through the shoot. It's quite a daunting prospect - the effort you've got to find from somewhere and the nervous and emotional energy and all that.
"But we came out the other end. So we'll watch World Cup soccer and see what the autumn brings," he added. What was the likelihood of him making another film then? "I would give it a 'maybe,''' he chortled.
Ken Loach - "getting through the shoot was a daunting prospect."
Photo: Richard Mowe
Jimmy's Hall which focuses on a champion of freedom of speech in church-dominated 1920s Ireland, was written in collaboration with Paul Laverty, their tenth film together.
Richard Mowe: Can film influence society – or does its inability to do this frustrate you?
Ken Loach: We add to the public discourse but only probably to a small amount. We can put ideas forward and give a different perspective on events, the same way you can do in a newspaper column. You add to the general 'noise' of the discussion. But if films did have an influence it would probably be very negative because they would endorse great wealth and hold up America as the defender of democracy and freedom and that would have a negative effect. We can ask questions and we can challenge authority but in the end it is down to the people who go to see the film.
This film takes place ten years after the period depicted in The Wind That Shakes The Barley (which won the Palme d'Or in 2006). Is it part of the same diptych?
KL: The two films relate to each other. We thought it would be interesting to see what had happened to the dreams that people had had for independence and what had occurred ten years later. As is often the case when people struggle for their independence from a colonial power, the hopes they had are not realised because of splits and because the old imperial power still tries to rule even if not directly. As someone commented they changed the colour of the flag but they did not change the way people react and relate to each other. The two films do sit by side. The Wind That Shakes The Barley was a more epic scale. This is just a microcosm – it is about a dance hall in a country bog where kids exchange ideas and enjoy dancing and learn poems and that is really dangerous.
RM: As you move forward do you want to look at working in digital, because you shot Jimmy's Hall on celluloid?
KL: We not only shot on film but we cut on film. The celluloid goes through the editing machine and you cut the celluloid. It is not as quick as digital, so you consider what you are doing more carefully, and you can check on the cricket score as you go along. You work with someone, so it is a much more human way of working. Film is an industry so they want to cut down on labour costs and speed up the process, which I can understand. All the pressure is to go digital but celluloid you can touch and see, and you make one cut at a time. We had, of course, run out of logging tape, which enables sound and picture to be matched up. We put out a call and got a response from all over and meanwhile the people at Pixar found they had some left and gave it to us.
RM:The main character in Jimmy's Hall is a rebel whom the authorities tried to suppress. Has society made any progress?
KL: I think there is a huge issue of dissidents and countering the prevailing consciousness. Some times secrets that the powerful do not want us to know get out. There is a suppression of dissidents and counter voices. There is one political idea that is allowed currency. And that is that the free market and neo-liberal agenda that has to operate. Anything that counteracts that is pushed to the edges. Jimmy Gralton, the rebel hero of the film, was that alternative voice.
RM: You reconstructed the hall for the film – was that a big undertaking?
KL: Yes – and it almost became a character in its own right. The hall is the place that people can be who they want to be. Jimmy and his friends stood firmly on the side of the poor and the disposessed and took action on their behalf. It was because it was a space for free spirits that it was under attack.
RM: Is it still the case in conflicts that authorities everywhere prefer if the people are not united?
KL: Absolutely – divide and rule is an established technique. The British take on Ireland is that the Irish cannot co-exist because of religion and the British army goes in out of kindness to try to help them. The idea of two sides of the working class getting together spread horror through the British establishment. The Left marches under the banner of unity is strength and yet stays sectarian and the right wing plays the Nationalist card yet capitalism is international and that is the paradox we have to overcome. The threat from the Right now is so strong and dangerous that we have to have unity on the real Left.
RM: How relevant is the story to Ireland today?
KL: I think Ireland is facing the same situation as other European countries. We are all in the grip of the neo-liberal agenda and the big corporations are taking over. Jimmy's fight now would be against all that and he would be for common ownership and a planned economy based on common ownership. Those are the ideas he fought for at the time and I think they are even more relevant today.
RM: Does it get any easier taking a film to Cannes, a place where you have been in attendance on more occasions than any other filmmaker?
KL:The first thought is you hope it's not going to be a total disaster. It's anxiety... anxiety about the showing and the worry if the projection will be good. The second anxiety is that I haven't made a load of old nonsense -- and then the third is that you'll get through it all without making a complete arse of yourself.
Jimmy's Hall is in cinemas from 30 May.
Share this with others on...