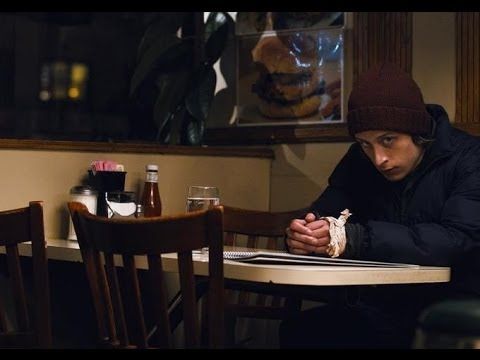 Lou Howe's assured debut feature Gabriel - which had its world premiere at Tribeca Film Festival last month - stars Rory Culkin in the title role, as a young man with unnamed mental health issues returning to his family's home after a spell in an institution. Culkin is magnetic in a role that forms the lynchpin of the film - Howe presents everything from Gabe's perspective, including the reactions of others, so we join him on his obsessive journey through a world of a emotions that he views from a skewed perspective.
The film was inspired by a childhood friend of Howe's, who suffers from mental health problems, although the story itself is entirely fiction.
"He was a very close friend who I grew up with and was very close with througout my life - he's still part of my life," says Howe, when I catch up with him towards the end of Tribeca Film Festival. "He was diagnosed with a mental illness when he was 18 or 19.
"My experience of his initial break and the memory of that and the memory of that moment in his family's life was defniitely a huge part of what interested me about the story. But also thinking about the way that his life has progressed since then.
Howe: "The intention of the project was always to experience the world in the way that Gabe does"
Photo: Wyatt Garfield
"The way in which our upbringings were so similar and our adulthoods are so dissimilar was inherently compelling and tragic, too. So it felt like a story that I wanted to tell that other people will be engaged with."
Although his friend hasn't seen the film - "I don't know that he would want to or that it would be easy for him" - his family have.
"They reacted in an incredible way and were very complimentary about the authenticity of it and the sensitivity with which it is told. So that was a very important reaction to me and a nice one to get," says Howe.
Howe and Culkin did a considerable amount of research for the film, talking to young people who suffer from mental health problems to make sure the portrayal felt authentic.
"It is more about being respectful and sensitive to the broader issue or the community," says Howe "And wanting to feel that you're telling a story that they will be proud of. It's something that's always on your mind. You don't want to tell and inauthentically positive story, either. You don't want to sacrifice the tragedy of it to paint a false picture on the other end of the spectrum."
The film originally began as a series of journals written by Howe in a bid to find the character, which he had been thinking about for several years, with the first script draft written around four years ago. Although while he was writing the journals as a stepping stone to his first feature he considered doing something more literally the goal was always to write a screenplay.
The first-person aspect of the film is very strong and we never see him talked about in the third person. He's always in the room or about to be in the room.
"The intention of the project was always to experience the world in the way that Gabe does," says Howe. "So the idea of telling a story through other people's points of view didn't feel natural or that it made sense. I think what happened, which was interesting, is the movie is told through his point of view - you're with him for the entire movie - but it really is about his effect on the people around him, in a significant way. That was obviously part of the story but I hadn't thought about the way that different perspectives would be created just by being with him."
Gabe's struggle to slot back into family life is vividly depicted, with his mother Meredith (Deirdre O'Connell) permanently on edge, with an urge to wrap her boy in cotton wool as she tries to reconnect with him. His brother Matt (David Call) takes a more robust approach but the fragility of a family who find themselves splintered despite their love for one another is evident.
The excellent score by Patrick Higgins and the sound design by Kent Sparling are also crucial to the film's success in helping us to empathise with Gabe. Scenes show how certain noises deeply disturb him or prompt him to slip into a reverie.
"The moments when he goes even deeper into his own head and loses reality a bit, those were always written as auditory interludes," says Gabe. "I immediately decided not to try to depict a literal visual point of view of Gabe. I didn't think I could really do justice visually to what's going on in his head and I didn't want to try. To me, spending time with him and putting the audience in a more experiential place throughout the movie was more interesting and evocative.
"So the sound became the sort of main tool to get a bit more subjective in a more direct way. I always like how sound can do that in a more subtle and deeper way often. I find, watching films, that sound design has a more subconscious effect on the audience. If those auditory interludes, the reveries, would have been visual, more abstract sequences, I think it could have got more heavy handed."
When it came to casting Rory Culkin, Howe - who says Culkin's debut You Can Count On Me is one of his favourite American movies from the past 15 years - was thrilled, even though he didn't have him in mind during the writing process.
"When his name came up, I was definitely excited by the idea," he says. "And then once we met and talked about the character, I was even more excited and it felt like it was the obvious decision."
So, how does Culkin approach his roles?
"I don't know that he's method but he was very intensely in his own head throughout the shoot," says Howe. "He talks about, not how hard it was to get out of character or anything like that, but that the experience affected him more emotionally than he realised. After the shoot, he was very sensitive and fragile and still in that vulnerable state that he had been as Gabe. So he goes very deep and that's part of what excited me about working with him, we both had very similar ideas about how to approach it from the beginning. The way that he works made sense to me in general but definitely for the character."
It's been a big year for Howe, who was also named as one of Filmmaker magazine's 25 New Faces Of Independent Cinema last summer - an accolade previously bestowed on the likes of Lucy Walker (Countdown To Zero), Andrew Bujalski (Computer Chess) and Ryan Gosling - and he's planning to take Gabriel onto the festival circuit, with Nantucket next.
"Now that it's premiered, I'm excited to focus on the next thing and let it have it's life," adds Howe "I've been working on a script that I'm hoping to direct as soon as possible. It's similar in tone, in the way that Gabriel, the film, is driven by suspense. It's a tense story that I think gets even more into thriller territory. It's even more suspenseful but it's still a character piece."
Share this with others on...