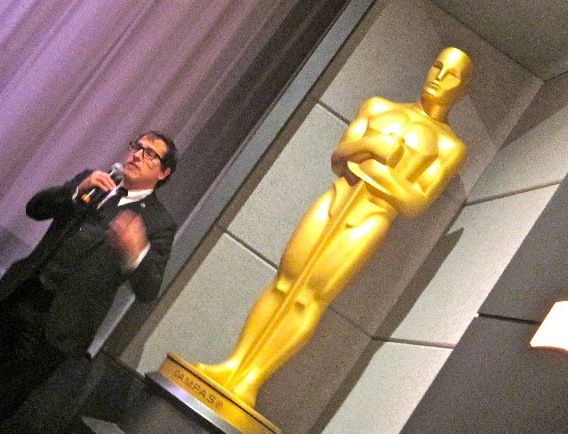 David O. Russell introducing American Hustle with Oscar: "The greatest pleasure, blessing and privilege I could have is their trust in me to take these risks."
Photo: Anne-Katrin Titze
Columbia Pictures and Annapurna Pictures with Christian Bale, Amy Adams, Jeremy Renner, and David O. Russell hosted a special screening of American Hustle at the Lighthouse International Theater in New York City with an after party at Vanity Fair editor Graydon Carter's Monkey Bar.
American Hustle stars Christian Bale, Bradley Cooper, Amy Adams, Jeremy Renner, Jennifer Lawrence, along with Alessandro Nivola, Louis C.K., Jack Huston, Michael Peña, Shea Whigham, Elisabeth Röhm, and an uncredited Robert De Niro.
Christian Bale, Amy Adams and a seated W Magazine's Lynn Hirschberg
Photo: Anne-Katrin Titze
On a rainy chilly late autumn night in front of an invited audience, Russell introduced American Hustle with Oscar keeping a close eye on the Academy Award nominated director (for Best Achievement in Directing for The Fighter in 2011, for Best Achievement in Directing, Writing, and Adapted Screenplay for Silver Linings Playbook in 2012). Jennifer Lawrence won the Best Performance by an Actress in a Leading Role Oscar and Bradley Cooper was nominated for Best Performance by an Actor in a Leading Role for Russell's Silver Linings Playbook. Christian Bale and Amy Adams starred in The Fighter.
In what seems like a very natural and organic way, the quintet has come together to team up for American Hustle. This week the film won Best Picture and co-screenwriters Eric Warren Singer and David O. Russell were honored for Best Screenplay from the New York Film Critics.
During his introduction, Russell saluted Peter Bogdanovich, "one of my heroes, sitting right here," and gave a shout-out for the Bronx High School for Cinema, another first in the country. "New York had the first public high school for theater and performing arts, Fame, you know, going to live forever, now they have film forever." He urges the audience to support the school. "When you talk to these kids, you get ten times more than you give."
Christian Bale holding court with Sibi Blažić at Monkey Bar as Russell looks on in the foreground
Photo: Anne-Katrin Titze
David O. Russell said "I feel very blessed, particularly about the three picture run that started with The Fighter about a certain kind of character. By the time we assembled this cast it had become a kind of repertory, combining the cast, almost, from the two films. The greatest pleasure, blessing and privilege I could have is their trust in me to take these risks. They're at the top of their game as actors, and they're athletes and I felt gifted to be their conductor. It's kind of… I'm just going to shut up now. Let the movie speak for itself."
Among those who came by to congratulate the stars of American Hustle after the screening were Peter Bogdanovich, Michael Stipe, W Magazine's Lynn Hirschberg, Kevin Bacon and Kyra Sedgwick. The evening was presented by O•P•I, appropriately so, because nail polish, (and the smell of it) plays an unusually prominent part in the film.
Peter Bogdanovich congratulates David O. Russell.
Photo: Anne-Katrin Titze
At the Monkey Bar after party, David O. Russell introduced Lynn Hirschberg to me as we spoke about the importance of hair in the movie. I had just congratulated Christian Bale for what for me is the best performance of an actor with a hairpiece this century and he seemed very pleased about that. No director has given Seventies hairstyles, male or female, more opportunity to shine than Russell does here. "It's attention to detail," he said to me and brought up how we all have that specific thing we have to fix in our appearance before leaving the house. The unforgettable scene of Bale's Irving Rosenfeld struggling with the toupee was inspired by Russell's father.
Bradley Cooper, who plays FBI agent Richie DiMaso, a man with his own hair issues, has brilliant comic timing in American Hustle. When I mentioned to Russell that the physicality of Cooper's performance reminded me of Cary Grant's (I had just watched again the marvelous Sylvia Scarlett in which Grant teams up with Katharine Hepburn dressed as a boy as part of The Film Society of Lincoln Center's upcoming retrospective The Discreet Charm Of George Cukor, December 13 through January 7, 2014). Russell proclaimed his love for Cukor and Hepburn, and introduced me to more of the party guests around us.
Alessandro Nivola with Michael Stipe against a wall
Photo: Anne-Katrin Titze
I continued on to speak with Alessandro Nivola, who plays Anthony Amado, Cooper's boss in American Hustle. Nivola, who did a lot of research about his real-life character's background and sound of voice, also adds a touch of screwball timing to his scenes. I brought up his performance in last year's New York Film Festival entry, Sally Potter's Ginger And Rosa and how both his characters remind me of what Irving Rosenfeld's wife Rosalyn in American Hustle (played by Jennifer Lawrence) says about her nail polish. Smell of flowers with a hint of garbage - these men are not what you might expect them to be. Nivola, who had just ended his run on Broadway as Sir Robert Morton in Lindsay Posner's revival of Terence Rattigan's The Winslow Boy agreed and pointed out the vastly different directing style of Sally Potter and Russell who loves "chance and surprises".
American Hustle is the story of a point in time, the New York of the late Seventies, and presents a tableau of con-artists, politicians, FBI agents and the mafia, based on a real scandal, because "some of this actually happened''. We start at the Plaza Hotel in 1978, Christian Bale getting his hair ready to go, which as we can see and hear "has been through the desert on a horse with no name." Russell uses songs to tease us mercilessly.
A rainy night for an American Hustle
Photo: Anne-Katrin Titze
In a later scene Ella Fitzgerald gets to prepare us that "the night is young, the moon is clear and if you'd like to go walking dear…" and we never get to the de-lovely part, similarly to how Bradley Cooper's Richie longs for Amy Adams' female company as she gives the low-cut dress a new meaning. Men wear foulards and velvet suits, cold cuts roll around as snacks in business meetings, wallpaper is made from grass, and microwaves are a new kind of magic.
The period glow - even the cheeks look rosier - doesn't hide the timeless truths: "It's scary how easy it is to take money from desperate people " and ice fishing is never sexy.
American Hustle opens in New York and Los Angeles on December 13 and nationwide December 18. London is scheduled for December 20 and the rest of the UK January 1, 2014.
Share this with others on...