Jonathan Groff as Samuel and Denis O'Hare as Jon looking for the next Miss America pageant.
C.O.G., directed by Kyle Patrick Alvarez, is a very earthly journey into the mind of a man diverted by his life into the world of others. The film takes off with mayhem right from the start and skillfully keeps you engaged along the way, as the ensemble cast, including Jonathan Groff, Dean Stockwell, Troian Bellisario, Corey Stoll, Dale Dickey, Casey Wilson turn in one outstanding performance after another.
I met up with the director in New York right before his US release to discuss his adaptation of the first ever David Sedaris story put on the silver screen. Here is what he has to say about cows, Home Depot road kill, Ulrich Seidl, Howard Hawks, cross-country bus trips, Darwin, the timing of the director's and star's mothers, actor Denis O'Hare's talent in inventing a catchy religious song and Kurt Vonnegut's Breakfast With Champions ETC.
Kyle Patrick Alvarez C.O.G. meets COS ETC.
Photo: Anne-Katrin Titze
Anne-Katrin Titze: Let's start with your beginning - the bus trip. The tone is set right away. He is reading Darwin's The Origin of Species and encounters all kinds of them on this bus.
Kyle Patrick Alvarez: The movie isn't very subtle but I always err toward subtlety. I knew that those first fifteen minutes of the movie needed to abandon subtlety for all it's worth. I knew it needed to be a little over the top, including him reading The Origin of Species. Let's hit it on the nose and then we'll earn the quietness later on.
AKT: Have you ever been on a bus trip like that?
KPA: I haven't. It's relatively true to the story [by David Sedaris]. I have friends who have been on bus trips like that. It's almost always that you're sitting next to drug dealers and hookers. It never fails. When I read the story, I always thought the first scene in the movie is this woman. It took us a long time to find that woman giving that speech at the beginning.
AKT: The text by David Sedaris also starts with a bus trip?
KPA: Yes. There's one little anecdote and then the pregnant woman giving that speech. If people like the first scene, they'll probably enjoy the rest of the movie. If they don't, they probably won't.
AKT: And if they stay until the very end, you have a little parting gift over the end credits. "I am doing the Lord's work," is a song that's hard to get rid of.
Jonathan Groff as Samuel with Dean Stockwell as Hobbs talking apples.
KPA: It's so funny. That song, "just doing the Lord's work," Denis [O'Hare as Jon] invented that on set. It wasn't scripted or anything. We were on this island and we had the truck pulling the car and we had like an extra three miles before we could turn around. So, we just left the camera rolling and he just started singing that song and it was so good. When we were doing the credits, we had that great little banjo piece and we saw that there were ten more seconds … it's like a little Easter egg.
AKT: Thank you. I was humming it for the rest of the day.
KPA: Yeah, it sticks in your head. We even showed that song to music specialists to make sure it wasn't a real song out there that he had at the back of his head. Even if you have a song with similar words, you have to pay for the rights.
AKT: Tell me about your encounters with David Sedaris. When did you first discover his writing? Has he seen the film?
KPA: I first started reading him in high school. I remember a friend gave me Naked, the book this is from. So I read the story first when I was 15 years old and it always stayed with me. I think it's a Howard Hawks quote - a film needs three great scenes and no bad ones. I felt that this had more than three great scenes. You sit around and talk with people what would make a great movie. I always said this story would make a great movie. I love his work but there is no other story I would want to see on screen.
AKT: And this is the first time ever that his text was turned into a film.
KPA: Because he always said no to people. The way I got through, was my approach was different. I am not trying to make a David Sedaris movie, where the lead person looks or even sounds like him. I am making my movie that happens to be based on his story.
AKT: Have you met with him at that point?
Kyle Patrick Alvarez told Anne-Katrin Titze: "The movie isn't very subtle but I always err toward subtlety."
Photo: Denise Sinelov
KPT: Everyone kept saying, he doesn't do movies, don't waste your time. I basically had to eventually just go to a book reading. He does a lot of book readings and he does signings afterward, so I gave him a copy of my first film. My first film (Easier With Practice, 2009) was based on a similar writer named David Rothbart who contributes to this American life also. I told him, if you like the movie, I'd like to talk to you about some things. He watched the film, he liked it and we started talking. And I gave him this approach - It'll be of your story but not of you. I think that appealed to him because he's not romanced by the film industry. He is not interested in Hollywood. My thing was - this was going to be an independent film and it's going to have its own voice. He has been really supportive and he was there at the premiere [at Sundance]. It's a weird thing to see part of your life put on screen.
AKT: The performances are really good. In certain scenes they had to figuratively walk a tightrope. I am thinking about the scene in which Curley [Corey Stoll] comes to the beauty parlor. You get the joke about the bathrobe and an almost rape scene.
KPT [laughing a hearty laugh]: You know, I always laugh at that bathrobe. That's one of those lines, I don't even think it was funny in the script. It's the way he delivered the line, the way he committed to it. I was aware that this was still a comedy, no matter how dark it got. If you throw in sexual assault, it's really tricky. I was really nervous about it. I never want sexual assault just to be a plot point to a movie.
AKT: You add religion too at this same point, having him pray. "Dear God make it go away," and it does. That is tricky as well.
KPT: When we were testing the movie, showing it to friends, people said "I'm not sure if I'm supposed to laugh at that moment or not". I said "that's exactly what I wanted you to feel. I even told that to David. Curley doesn't think he is sexually assaulting him. Curley just has this twisted perception about what sexuality is. His closeted-ness let him to be this overly aggressive person who doesn't know how to read body signs.
AKT: Well, he uses the word bottle… In another scene you have someone speak about Home Depot road kill.
KPT: I'm so glad you brought that up! I wrote that line. I was so proud of it. It's not a David Sedaris line. No one ever mentioned it.
AKT: Today's your day.
KPT: I'm not saying Home Depot is an evil place. It's just a place where cars drive in front. That made my day, that you brought that up.
AKT: "Clifford died." "Your dog?" "No, my nephew." That is Sedaris dialogue, I suppose.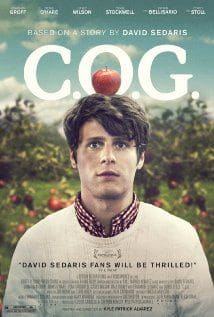 KPT: That's Sedaris.
AKT: I love the scene in which David/Samuel [Jonathan Groff] talks to the cows and reflects if cows ever regret things.
KPT: That's the one time that it's not a line of dialogue, it's a narrative line Sedaris wrote that I put into the character's mouth.
AKT: Speaking of cows, are you familiar with Ulrich Seidl's films?
KPT: Yes, of course. I'm not as much an expert on his work as I would like to be.
AKT: I was reminded a few times of the tone of Seidl's Animal Love or Jesus, You Know. It's Austria, but not so different. I noticed in the credits the last name of 9:15 Woman and friend.
KPT: I swear, it's the best gift I've ever given my mom. We had a big screening in L.A. and afterwards there was a little party and somebody said "oh, you're the 9:15 woman." It made her week or month. Since I was making films in film school I had a way of sneaking her into my movies.
AKT: The friend is Jonathan Groff's mother?
KPT: Yeah. She was visiting the set. It was like an inside joke for us.
AKT: I brought you something. This is a shopping bag from a store in Paris [with the letters COS] on it.
KPT: Oh nice, is this a store? That's amazing
AKT: David in your movie says C.O.G. stands for Capable Of Genocide. Well, this one is Capable Of Suicide [COS].
KPT: Thank you so much. I like the bag a lot, too.
Appropriately, Kyle is now in possession of my COS bag.
C.O.G. is a superior film of an entirely different child of an entirely different god from James Franco's feeble adaptation of a Cormac McCarthy story with the same, albeit non-abbreviated title.
C.O.G. opens in the US on September 20
Share this with others on...