Isabelle Huppert in Dormant Beauty
On a rainy Friday at high noon in New York City, I met for a conversation with Marco Bellocchio on his latest film, the provoking Dormant Beauty (Bella addormentata), which screens in this year's Open Roads: New Italian Cinema at the city's Lincoln Center. His drama, starring Isabelle Huppert and Toni Servillo, explores Italian concerns in the wake of the famous real-life euthanasia case of Eluana Englaro. We discussed how he used Hillary Clinton as a marker of time, what it takes to awaken a sleeping giant, and Isabelle Huppert. We talked about the contrast in style and form of his 2009 film Vincere and the socio-political religious climate of a more contemporary Italy through sleeping beauties.
Anne-Katrin Titze: I would like to start with the fascinating structure of your film. You interweave three or four stories around the real life case of Eluana Englaro, who had been on life support. [January 18, 1992 – February 9, 2009 she was in a vegetative state.]
Marco Bellocchio: Two things interested me - I wanted to create an Italian story, because the Eluana Englaro tragedy was something that touched and involved the entire country. So we needed to tell that tale via different characters in different places. One of the stories takes place in Rome, one in the Veneto and another one in Florence and the last one in Emilia. That was because I wanted to give an Italian outlook, not just something that would be set in one city and seen from the eyes of one character.
AKT: Which of the stories came first?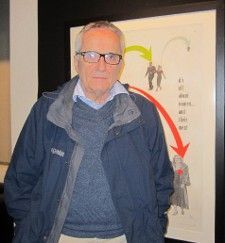 MB: It is evident that for each project there's always a starting point. In my case, the starting point was the story of Eluana Englaro but also the story that gives the title to the film - Sleeping Beauty. I was and am still convinced that there was no hope of life for Eluana Englaro, who, as the surgeon says in the movie, had been dead for 17 years. [Her father wanted her feeding tube removed, but the authorities refused the request.] So I wanted to also tell the story of another young woman [Rossa played by Maya Sansa] who was beautiful and intelligent and who destroys her life with drugs. The clash between her attitude and that of the young doctor [Pier Giorgio Bellocchio] who wants to prevent her from dying - these stories were the initial nucleus of the film.
Bellocchio not only gives a wide spectrum of reactions, he also introduces several "sleeping" characters.
AKT: Of course, with a title that could be translated as either Dormant Beauty or Sleeping Beauty, the audience cannot not think of the fairy tale. In the classic tale, everybody around the princess has also fallen into a sleep, is also dying in a way. In your film, especially in the Isabelle Huppert sequences, you have the same thematics - it is not just the girl, her daughter who is in a coma, but everything around her. Life becomes paralysed for the caretakers as well. Can you talk about that?
MB: The fairy tale component came afterwards. I didn't think of the structure of the tale and then did the movie around it. I do realise that there are a number of elements that appear in the tale that are also in the film, but it's something that I saw in hindsight. There are several characters who fall asleep and wake up. Of course, there's the two women who are in a coma, they are permanently asleep. Then there's also the drug addict character who is asleep and then wakes up. The doctor at a point falls asleep and then wakes up. Isabelle Huppert [as a mother] is in that position as well.
So the issue, the theme of awakening back to life is very present. There's two cases: Those that are asleep and can no longer wake up and then there's those who are asleep but there's still a possibility for them to awaken. So in a general sense, it has been said, and I can see that, we can be talking about Italy as a country as well. Italy as a country can be seen as a metaphor, as being asleep and needing someone to go and wake her up. And that's the representation of the politicians that I included in the movie. There is something that must intervene to wake them up.
AKT: You have the senator [Servillo as Uliano Beffardi] say in a scene that he has enough of the party line. That he doesn't want to obey any more.
MB: Yes, it's an awakening.
Toni Servillo and Alba Rohrwacher in Dormant Beauty
AKT: Because obedience is also sleep. The use of projections and screens in your film is striking. I loved how early on in the TV news we see Hillary Clinton in her role as Secretary of State. Wide awake, clearly a woman who is not sleeping. The scene fulfils two functions: You locate us time-wise in February 2009 and also tell us that this is not a movie about fetishising sleeping women. You tell us that right away.
MB: We definitely wanted to follow closely the precise days in which the real story took place. You know, Eluana Englaro was moved from a clinic she was at from Lecco to Udine and six days after she died. We set the movie within those six days. We selected archival footage from TV newsreels from those days specifically. So, for example, [Prime Minister] Berlusconi's speech, which was so cynical and superficial where he actually stated: "Oh, I was told she looks good, she has nice colour on her cheeks, she could even give birth to a child, technically." That was completely absurd and that was something he really stated in that week. The Hillary Clinton segment, I didn't even remember that it was in there, but it must have been on TV in these days.
AKT: It fits perfectly - a good coincidence. In the reactions to the case, you play with expectations also, it seems. One might expect a different point of view towards euthanasia in some cases, but you show how much it depends on the individual. I am thinking, for example, of the senator's daughter [Maria played superbly by Alba Rohrwacher] who is so strongly pro-life.
MB: Actually, that was not a preconceived idea that I had and wanted to introduce to the film. It is the result of a very personal train of thought or belief. I grew up in a region of Italy called Emilia-Romagna. The region at that time was very communist, red, we say in Italy. It was very common when I was growing up to have marriages where the husband was very political and a member of the Communist Party of Italy and the wife was very Catholic and very religious. These marriages, which technically on paper seem impossible, in many cases were working out very well.
So this could be a very Italian situation, where in a family you have that kind of political/religious component, and then the children may end up holding one or the other. In this case the daughter of the senator ended up embracing her mother's Catholicism and rejected her father's leftist ideas. It may be hard to understand when you're not Italian. This socio-political religious climate was very common. It created a philosophical stand, because there are some components they have in common.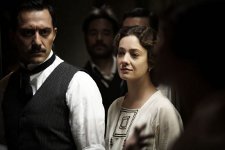 AKT: Can you talk about the different challenges in making a movie located in February 2009 and on the other hand, making a film about the life of Mussolini with Vincere? Both are political films, both talk about Italian history, both deal with imagery and style.
MB: The film about Mussolini, Vincere, was an old story with a very specific style and form. I was interested in talking about the avant-garde movement at the beginning of last century and all the phenomena that revolved around it, all the great societal changes around the time for Italy. I wanted to talk about futurism and cinema at the same time. So it was a film where all these avant-garde movements and the great popular show that was cinema were the protagonist. In this sense, it lives a life of its own and it is my way of tackling issues connected to cinema in stylistic and formal elements which shape the entire film. Unlike this, in Dormant Beauty there is TV but that's not the core of what I wanted to talk about. I would say it is more of a sentimental, or moral film and that is what determines its form, unlike what happened with Vincere.
Vincere screened at the 2009 New York Film Festival and Dormant Beauty was shown in the Film Society of Lincoln Center's Film Comment Selects program earlier this year. Open Roads: New Italian Cinema runs from June 6-12, 2013 and has been organised by The Film Society of Lincoln Center together with Istituto Luce-Cinecittà - Filmitalia and the support of Ministero per i Beni e le Attivitá Culturali (Direzione Generale per il Cinema) in collaboration with the Italian Cultural Institute of New York.
Share this with others on...