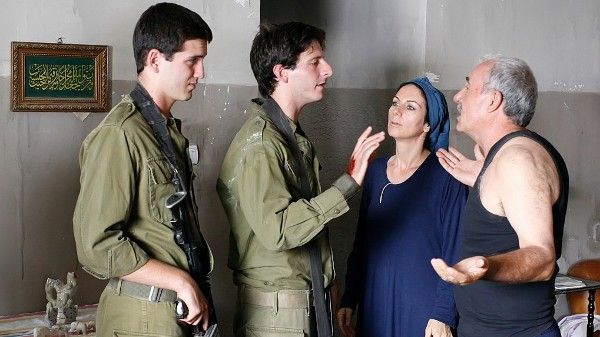 Showing that the Seret Israeli Film and Television Festival in London this year, Rock The Casbah is a bold first feature looking at young Israeli soldiers struggling to come to terms with the realities of the conflict with Palestine. It's directed by Yariv Horowitz and we caught up with him to ask how it came about.
"I was an army photographer in the Nineties and I was posted in the West Bank and Gaza," Yariv begins. "It was strange at first. I felt it was very violent and my friends were all very persuaded about their job. It came together with what we studied in school, you know, as Israeli kids learning about the Holocaust, but I saw a lot of problems with their way of seeing it. All of the media – ABC, CNN, the BBC, even Israeli television – were very critical about what the soldiers were doing in the West Bank. I felt I needed to record this piece of history, to tell the story of my generation."
He explains that a lot of incidents in the film were based on stories he heard from his friends and on things he saw with his own eyes while serving as a soldier. The murder that precipitates the film's central storyline took place in real life just a few blocks from where he was stationed.
"Mostly I wanted to do this film for my friends and me so we could see that we were not alone," he explains. "There were hundreds of thousands of soldiers there but each one of us thought that it was only us. It was a whole generation." Some of them cried when they saw the film, he says, "Because they've been there and finally they understand that they are not alone. It's not just them. It's not their fault."
He also wanted to deal with the wider issue, "To show how absurd it is, on both sides. To show that the intifada war was mostly just a bunch of kids fighting other kids without knowing why."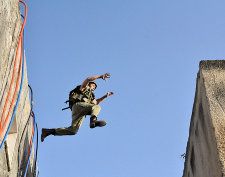 For this to work, it was essential that he get access to both sides of the story. "I couldn't give myself the privilege of speaking for Arabs," he says, so he gave the Arab actors in the film a lot of freedom to improvise their dialogue. Getting them to agree to take part in the first place was difficult, he says - "All the Arabs thought this was an Israeli film and all the Israelis thought this was an Arab film" - but trust developed once the production got underway and the result was a film that had Arab audience members in stitches at in-jokes he hadn't even noticed during filming. The Arab actors also supplied stories about their own experiences of the conflict that informed some of the incidents in the film, broadening its perspective.
One Arab actor who really stands out is the small boy who plays with the soldiers after they are stationed on the roof of his home.
"I was auditioning a lot of kids but I couldn't find one who was authentic enough, so I settled for one who was just okay," Yariv recounts. "Then when we were location scouting I found this boy just playing in the street. He's an amazing boy; he's so easy to work with. I think he was so good because he didn't understand that there was a camera, he didn't really understand that he was in a film. He was just playing with us. When we brought him to the première and he saw himself on the big screen he was in shock. Everybody stood up and clapped for him and he was delighted."
Did he have difficulties getting the Israeli military to co-operate with the film?
"They co-operated completely," he says emphatically. "It was the same with The Gatekeepers. One of the amazing things about the Israeli security services – and the secret service, in a way, as well as the army and some other forces – is that they don't agree with government policy about Palestine. They don't think that there's a military solution to the problem; they don't think the intifada can be won by force. I know it sounds crazy but they were very supportive of Rock The Casbah."
Aside from all these other challenges, taking on a feature film was a big step for Yariv, who had previously worked in television. How did that feel?
"Amazing!" he says, with obvious delight. "When you're hired to do a TV show or a commercial, after every scene, at every cut, you're looking to somebody for approval. When you're making a film, suddenly everybody's looking at you!"
The big test, of course, comes when the film reaches cinemas. How does Yariv feel about its reception?
"This is the first film in Israel, people in the theatres tell me, where the audience in half Jewish and half Arab, so that's amazing, if the two sides can come together and feel for each other in the end. When we screened it in Germany and Arab woman came up to me afterwards and she was crying. She was a Palestinian refugee from Gaza and she said that this was the first time she had felt sorry for the Israeli soldiers. In the end the only way we can put our problems behind us is to learn to feel for each other."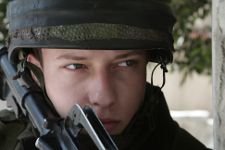 Well and truly bitten by the film bug, Yariv is now going on to adapt a book about early Israeli settlers in the region. "It's about a German Jew in 1895, a very Zionist guy, the first guy who came to Israel from the Rothschild family, and how he found himself falling in love with an Arab woman. Europeans mostly think that Israel started when the State of Israel was formed after the Holocaust, but in fact Jews came here from 1895 and started to buy land from the Arabs. This guy did it because he believed that Jews were going to be killed in Europe soon because of anti-Semitism and so they would need a homeland to escape to. It was very far-sighted of him. The film is like There Will Be Blood meets The English Patient. I hope it reaches mixed audiences because it's a universal story. You can tell the same story about a guy who goes from Scotland to the US to buy land from the Indians and falls in love with an Indian woman. Also, it's the story of those people who felt that urgency to find shelter for the Jewish people, guys who could actually understand what was coming."
Rock The Casbah is screening at Seret on June 16 and The Gatekeepers can be seen on June 14 and 16.
Share this with others on...