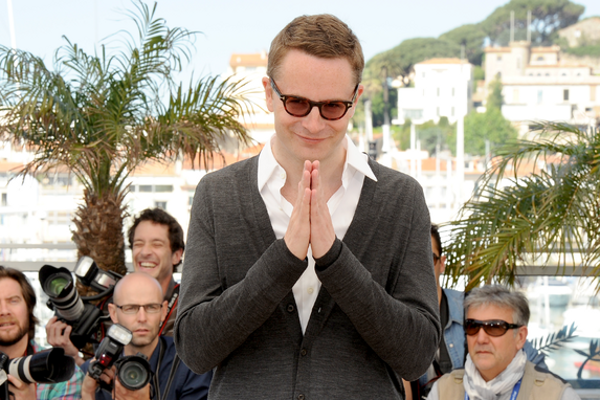 As Only God Forgives screens at Cannes, The Dane behind Drive explains why he is not a violent man - despite evidence to the contrary - while Kristin Scott Thomas reveals how she found it really easy to play the bitch.
A few years ago Danish director Nicholas Winding Refn was experiencing a crisis of faith when his wife was pregnant with their second daughter. Questions had arisen about the baby's health, which fortunately turned out to be ill-founded.
"I had a deal with the French company Gaumont to do two low budget films and I came up with the idea of a fight movie set in Thailand. I started writing the script but I was going through an existential time because of my wife's pregnancy," he told a media gathering following today's press screening of Only God Forgives.
"It was a difficult period and I felt angry and violent but did not know how to channel it," he explained. "I thought if anyone has answers it has to be God. So I came up with this mother character, who devours everything. And the emphasis shifted to become a mother and son story."
Before he started work on this film he went off to make Drive with Ryan Gosling for which he received a Cannes best director award in 2011. When the actor he had originally considered for the role of the son dropped out Gosling said he would be happy to do it and Kristin Scott Thomas who plays the mother was happily still available.
"So we went off to Bangkok where I encountered mysticism and reality. My newly born daughter seemed to have the ability to see ghosts and at night she would wake up screaming. We had to have a healer come and 'cleanse' the room."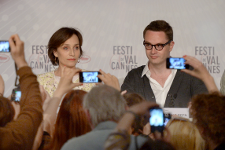 Refn is in Cannes without Gosling who finally was unable to make it because he has been filming his directorial debut, How To Catch A Monster, in Detroit, and scheduling a transatlantic flight in the middle of a shoot proved impossible. The Festival's director Thierry Fremaux apologised for his absence, saying that he was "here in spirit."
In an image-changing role as the matriarch straight out of a Greek tragedy Kristin Scott Thomas was admirably frank about being drawn into a masculine world. "This kind of film probably is not my thing. I do not enjoy watching this level of violence but I was drawn to working with Nicholas and the idea of playing somebody completely different.
"She was far away from the upper class thing that English people love to see me in. As we got nearer she became more and more despicable. It is frighteningly easy to play the bitch. It just sort of happened and every day she seemed to get worse. "
Asked about the almost unwatchable images of eyes being gouged, limbs being splayed, and oodles of spurting blood, Refn suggested that "art is an act of violence. It is about penetration and speaking to our subconscious. My approach is as a pornographer – it's about what turns me on. I do not consider myself a violent man but I have a fetish for violent emotions and images. I cannot explain where it comes from but it is a way to exorcise certain things."
Refn, surprisingly for someone who has made his reputation in cinema, declared himself to be a television junkie. "I loved the size of them since I was a kid, and the power of the remote control. Television in the last ten years has become more creatively satisfying and has opened a whole new arena."
Luckily he will be able to immerse himself in the medium shortly. He has signed on to do a television take-off of the science-fiction extravaganza from the Sixties, Barbarella, which starred an iconic Jane Fonda.
Share this with others on...