Michael Douglas and Matt Damon in Cannes
Photo: FDC - T Delange
How did Steven Soderbergh manage to seduce two mainstream stars like Michael Douglas and Matt Damon, persuading them to let it all hang out and much more besides for his Liberace opus Behind The Candelabra?
With Douglas it began with a chance overture while they were both working together on Traffic some 13 years ago when the director already had an idea he would like to focus on the flamboyant entertainer.
"I became a bit paranoid when Steven suggested it and wondered why he thought of me then I heard nothing until I received the script, based on his lover Scott Thorson's book," he said. An emotional Douglas also noted that it came just as he was recovering from a bout of cancer. "It was a beautiful gift from Steven and Jerry Weintraub [the producer]"
Damon, who at an impressionable age used to watch the Liberace TV shows with his parents, said he never had a moment's hesitation. "I chose movies on who is directing them. So to have a director like Steven and to have a script that was so beautifully written and offered phenomenal roles there was no contest. As for being in bed with Michael Douglas I now have things in common with Sharon Stone and Demi Moore and I look forward to comparing notes with them."
Soderbergh edited the film in the camera as he went along, which helped the pace of the 32-day shoot. Damon explained: "We would shoot a scene and I would go home fairly early, have dinner and put my kids in the bath, then open up my Ipad, go to a website and look at what we had shot that day, completely cut together. It certainly helped you to understand the movie that you were making and it helped to put my nerves at ease."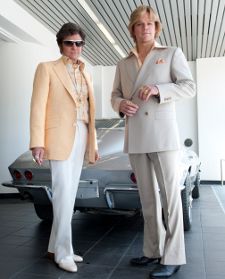 Douglas was astonished by the fact that the shoot finished on a Friday and by Monday Soderbergh had completed the first cut. "This is the first time I have played a character whom people knew who he was. My first task was to get the voice right and once I had that everything else fell in to place."
Soderbergh said that film studios were not convinced they would make their money back on the project but HBO had no such qualms. "The television airing means we will have a bigger audience than in the cinema so I am not complaining," he said. "For a film on a budget of 25million dollars you need to earn 50 million at the box office to make any kind of profit and they were not convinced we could do that with a subject that had such a gay ethos.
"There has been a gradual migration of audiences towards television, especially for films with more serious or challenging subjects. I have noted it in last ten years. There is a lot of great TV being made in the States right now and television is taking control of a conversation that used to be the exclusive domain of movies. Is it secular or cyclical? I do not know but it is definitely a golden age of TV in the States."
Share this with others on...