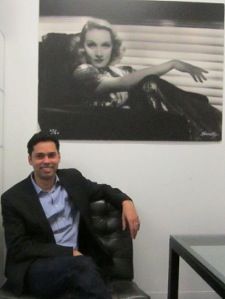 Sitting in the office of Rajendra Roy, the Celeste Bartos Chief Curator of Film at the Museum of Modern Art in New York, we had a chance to discuss the upcoming Kino! New German Cinema programme, the importance of film restoration and preservation work, and the transition for him into 2013. The day before, New York representative for German Films Service + Marketing Oliver Mahrdt gave us some insight on the history and impact of the synergy between MoMA and German film.
Anne-Katrin Titze: Taking over from Larry Kardish, this is your first year of selecting films for Kino!?
Rajendra Roy: It's my first time directing the selection for the programme. Same with the Canadian (Front, March 13-18) showcase. When there's a retirement there's always a reshuffling.
AKT: 35 years for Kino!, which is a very long time for a programme to exist.
RR: It is. The thing that's most critical is the long-term commitment that MoMA has to German cinema.
AKT: So you tell me, while sitting under a large image of Marlene Dietrich.
RR: I don't disguise it. I used to work for the Berlin Film Festival. German film is something that is close to my heart.
AKT: Who are some of the names, you would say, MoMA introduced to American audiences?
RR: Certainly Fassbinder. The New York Film Festival really was where he kind of came out in New York, but in terms of an ongoing discussion and investigation of his work, whether it was through the restoration and preservation of Berlin Alexanderplatz (1980) a few years ago - more recently with World On A Wire (1973) which MoMA was involved in restoring and we are working on a new collaboration - that kind of in-depth engagement with an artist is particular to MoMA because it's our archival work that plays to our strength. I think in the future, that's what you'll see more of.
AKT: What are the challenges with organising annual programs like Kino!?
RR: Kino!, as a showcase, had introduced a number of names like Tom Tykwer. It tends to be more embracing of commercial success than the kind of in-depth surveys that we would do. The challenge is, of course, for us and all institutions that have these annual showcases, how do you segment this programme outside of, let's say, New Directors/New Films.
AKT: You picked six films this year. It seems that reinvention is the theme.
RR: That's great. I was going to say growing up. But reinvention is good. There is this kind of re-embrace of youth, an embrace of youth that happens in Sylvi, or in Kalifornia, attempts to start over. And a reimagining of a male self. How do I investigate that traditional role that I've been set out to follow and create something that's more authentically me.
Rajendra Roy is planning a series in November on the cinema of the Berlin School to be screened at MoMA and co-authoring a book on the subject.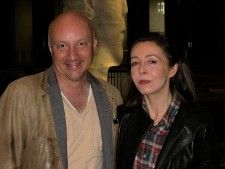 I also had the opportunity to meet up with Oliver Mahrdt at the Grand Hyatt Hotel near Grand Central Terminal to speak about his involvement with the history of Kino! New German Cinema at MoMA.
AKT: 35 years of Kino! at MoMA.
Oliver Mahrdt: Another milestone!
AKT: In these 35 years you have had the who's who of German Cinema come to MoMA.
OM: When Larry Kardish started it, he was influenced by the Oberhausen Manifesto and he wanted to showcase something at MoMA that was new and fresh and unknown. There was this group of auteur filmmakers that did film very differently from what came before. There was a new wave replacing, you know, the old "Heimatfilme."
AKT: How are the films chosen?
OM: The Museum of Modern Art picks the films. I'm in the lucky position that I can say, please complain directly to the programme department. Which is a lovely thing. I'm happy to be on the sidelines for this. I've been here for 20 years, still it's interesting for me when Americans pick, especially with a museum like MoMA, what will they pick as trends for tomorrow.
AKT: One of the best films from last year was Christian Petzold's Barbara, which played at the 2012 New York Film Festival. It was not part of Kino!, was it?
OM: No. It's also important to not have a stale programme. There's nothing wrong with library titles in their setting, particularly a museum. So you wouldn't screen something that was at the New York Film Festival the year before.
AKT: You did have films like Florian Henckel von Donnersmarck's Academy Award-winning The Lives Of Others (Das Leben der Anderen 2006) premiere at Kino, correct?
OM: We had The Lives Of Others, we had Marc Rothemund's [Oscar nominated] film, Sophie Scholl (The Final Days Die letzten Tage 2005).
AKT: The Margarethe von Trotta Hildegard von Bingen film, starring Barbara Sukowa (Vision - Aus dem Leben der Hildegard von Bingen).
OM: Yes. We've had films that are visually interesting but difficult to market.
AKT: Who is the audience for German film in New York?
OM: There are two things. We live in a digital society, so it's not just who comes to the actual screenings itself. The e-mail blast from MoMA is like an impulse into the US. I think a lot of film programmers monitor closely what MoMA is doing.
AKT: You mentioned that, on purpose, Kino! takes place at the same time as the Tribeca Film Festival?
OM: You know, it used to be that way before 9/11. And, like it or not, in a city like New York, there is always competition. I feel it is a nice way to work together because filmmakers from Germany have a chance to meet other filmmakers who are there for Tribeca. I feel it's like a synergy… Larry Kardish, who retired last year, created something very special. How many people start something that lasts for 35 years?
MoMA's survey of new German filmmakers is celebrated this year from April 18-24. Read more about the programme here. For tickets and further information, visit the official site.
Share this with others on...