Diana Vreeland in The Eye Has To Travel - "You've gotta have style"
If there is such a thing as the truth of style, Diana Vreeland is the pope of the concept.
On Friday, March 15, at New York's French Institute Alliance Française as part of their Fashion Talks 2013 series, Lisa Immordino Vreeland, director of the documentary Diana Vreeland: The Eye Has To Travel, spoke about the style icon's discovery of Lauren Bacall, and looked at her early influence on the careers of Twiggy, Penelope Tree, and Anjelica Huston in startling images shot by the 20th century's most distinguished photographers, such as Richard Avedon and David Bailey.
Immordino Vreeland gave context to some of Vreeland's famous quotes: "The best thing about London is Paris," should be seen in combination with her close friendship to Coco Chanel, who was at her fittings. "Three fittings for a nightgown - and I'm not that deformed," she quipped.
Lifelong ties to France and the fascinating details of her grandmother in-law's career in its three incarnations - as the fashion editor of Harper's Bazaar, the Editor-in-Chief of Vogue and curator at the Met Museum's Costume Institute, mapped out the fashion tales.
Immordino Vreeland led us on a tour from the Paris-born legend's childhood (spent with horses in the Bois de Boulogne, where Sergei Diaghilev and Vaslav Nijinsky of the Ballets Russes were guests at her parents' home) to her alluring friendships and achievements as editor and curator that changed the world of fashion. The eye and mind travel, with Diana Vreeland emerging as a glittering paradox who still challenges our ideas of beauty, self-invention, and bravery.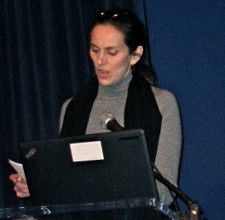 Called "my ugly little monster" by her own mother, the young Diana had to invent a new system of beauty for herself, a less rigid and boring one, and maybe one less marked by a male gaze. She helped Jackie Kennedy select a wardrobe before her husband became president and she got to publish the very first portrait of the presidential couple in return.
Vreeland knew of the importance of style - "You gotta have style. It helps you get down the stairs. It helps you get up in the morning. It's a way of life. Without it, you're nobody. I'm not talking about lots of clothes."
She published articles on Brigitte Bardot written by Marguerite Duras, she loved surfing and skateboards. Contradictions never phased her.
"Red is the great clarifier - bright and revealing. I can't imagine becoming bored with red - it would be like becoming bored with the person you love."
"Don't be boring," was her command to the world.
The Vreeland evening at the FIAF handed the audience an inspiring puzzle of a lady, who likened her living room to "a garden in hell," was called his "crazy aunt" by Avedon, competed as a model with the Frank Lloyd Wright house in Arizona, and adored geisha make-up.
And, please keep in mind:
"Blue jeans are the most beautiful things since the gondola."
Upcoming Fashion Talks and films this month at FIAF, 55 East 59th Street, NYC
Monday, March 18 - Isabel & Ruben Toledo at 7pm
Wednesday, March 27 - Naeem Khan at 7pm
The Man Makes the Clothes: Pierre Cardin in Film continues on CinémaTuesdays through March.
Share this with others on...