Eva Mendes as Romina in The Place Beyond The Pines - "I wanted her to be as raw as raw could be"
On Sunday morning, with the clocks moved ahead an hour in the US for daylight savings time, Eva Mendes, who stars with Ryan Gosling and Bradley Cooper in The Place Beyond The Pines, was alert and ready to meet in a suite at the Waldorf Towers, New York City. The film tells the story of Luke (Gosling), a circus stunt rider who finds himself on a collision course with a local politician (Cooper) after the woman he had a brief fling with (Mendes) tells him he has become a father. Matters are complicated by the fact she has a new fiance, Kofi (Mahershala Ali), who is more than happy to take on the paternal role.
Mendes explained in detail why she organised a women's day before taking on her role, the benefit of motoring around LA with her director Derek Cianfrance, and how material from 20 years ago can help create a character.
Anne-Katrin Titze: It's not exactly singing a lullaby to Merde, but I saw some emotional parallels between your character (Romina) in The Place Beyond The Pines and your model in Leos Carax's Holy Motors.
Eva Mendes: Oh you did? Wow! Tell me about that! Cool!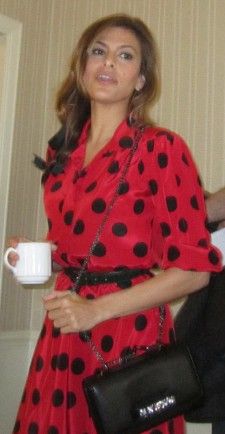 AKT: There's a tenderness, and confusion and a motherliness to a quite beastly character. The beasts are demanding.
EM: That's beautiful. I didn't know I did that! That's great.
AKT: You did not tie them together at all?
EM: No, I did Holy Motors after, so maybe… It was probably only a month after I wrapped Pines. So maybe that's a little residual that went over.
Mendes more veiled than unveiled and, at times, resembling the Virgin Mary, is wonderful, confused and tender in Holy Motors. Here is why she continues to shine.
AKT: How did you get involved with the project?
EM: I said to him (Cianfrance), we were in Los Angeles, he's from New York,- "Look, I can go in this room and read this material for you but I don't think that's really what you're looking for. I think you should get in my car and we'll take a drive and we'll drive around the neighbourhoods which I grew up in in Los Angeles. And I think you can get to know how me and the character are really alike through these experiences. And I can talk to you about my experiences growing up." And he was totally into it and we took these beautiful couple of hours in the car. I showed him where I was from and drew the parallels between the characters. His non-conventional approach to auditioning, I thought this is going to be fun. I like this.
Mendes went on to explain the research she did before shooting the film, to help her answer how to play the big question her character has.
EM: I have so many women in my life, in my family, my friends, my sisters, my mother. And before I actually went to go film in Schenectady, I said I wanted to have a women's day at home. All these women, who were all mothers, we sat around and talked and ate and had fun and I posed the question. So, here's the situation: You have a child with a man that you don't know. That man is out of the picture. Then you meet a great man who wants to provide for this child as if it were his own. Then the biological father comes back into the picture, he wants to be involved in your life but you have this great man who wants to provide because the biological father is unfit. What do you do?
The Place Beyond The Pines at the Waldorf Towers, New York City
Photo: Anne-Katrin Titze
The thing is, that I thought, well, you go with the man who provides for the child. And all these women were like, "no". Everything in your body, in your being… there's a primal pull to the biological father no matter how wrong or unfit he may be. And you try everything to make that work. Not to say that it's going to work. I got so much insight from my friends and family and women that were in similar situations. It was so helpful for me. I figured when she kept seeing him, when Romina kept seeing Luke, it was… I like her because she's flawed.
She wanted to keep the man who provides and who's stable, yet she thought, "Let me try, let me see." Before she introduces the baby to him herself, she tests him out a little bit. She's testing the waters a bit. She is scared and trepidacious, but there's an oh-my-god-can-this-work kind of feeling. Obviously, you can't ignore the fact that Luke is an incredibly exciting motorcycle stunt driver. The travelling carnival that comes into this sleepy little town. It's the early Nineties. There's no Facebook, nobody knows where anybody's at. She's a young woman who gets caught up in this larger-than-life character. You can just see him [Luke] - he's electric.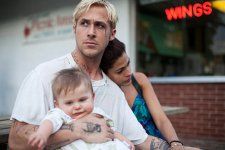 I grew up in the city. Everything was so exciting. My mom worked at the Hollywood Chinese Theater. She worked at the box office and souvenir shop. Maybe I would have [reacted like Romina] if I was growing up in a sleepy town.
The Place Beyond The Pines catches more paternal instincts and filial rebellion: More fathers, more sons, corruption and the realisation that "a limp goes a long way in politics" catapult the movie 15 years forward.
EM: Shaving your eyebrows really helps to age a person. I do not recommend this for real life.
Costume designer Erin Benach does a remarkable job of narrating symbols without losing a sense of real-life plausibility. In a sequence at the diner where Romina works, she wears a top that visually splits her upper body in half.
AKT: How did you feel about the costumes? I felt they worked very well visually. At one point you wear a T-shirt that cuts you in half, almost like the two sides of you, the two men in your life.
EM: When? Where did I wear that?
AKT: At the diner early on.
Mendes explains Romina is 'a young woman who gets caught up in this larger-than-life character'
EM: That's incredible. Oh my God.
AKT: And those necklaces that choke you.
EM: They choke me, yeah, that was definitely, very early Nineties. A little thing I wanted her to be as raw, as raw, as raw as could be. This is not a girl who fusses with make-up or clothing. This is a woman who is in survival mode and is really bare boned. Little tidbit: Those jean shorts, those horrific jean shorts, they are sooo God awful, were mine from 1992. I swear…
This is what I love about Derek [Cianfrance]. He wants as much personal stuff you can infuse a character with. That's what he loves. That's what he invites, encourages. The clothes were very ill-fitting and that's what I wanted for her. She's raw… I'm so glad I had that women's day!
The sky over Schenectady turns lavender, pink packets of artificial sweetener promise hope, and an unforgettable first ice cream, captured in a photograph, is being arranged to solve the riddle of legacy in the future in the Place Beyond the Pines. The film is on limited release in the US from March 29 and in UK cinemas on April 12. Read our interview with Ryan Gosling about the film, here
Share this with others on...