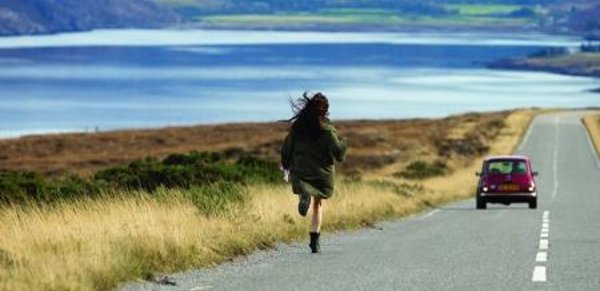 Scott Graham's feature debut Shell - which takes a very different direction from his short film of the same name - tells the story of a 17-year-old girl on the cusp of womanhood, who lives in the bleak isolation of a remote Scottish Highlands garage with her father (Game Of Thrones star Joseph Mawle). With her mum long out of the picture, Shell (newcomer Chloe Pirrie, who I'm sure we'll be hearing a lot more of in future) tries to fill the gap, leading their relationship to become increasingly troubled. I caught up with Scott just after the film's premiere at San Sebastian Film Festival last year to talk about the challenges of making the film (read more about what he said here.
How did you pick where you shot the film and how did it develop from the short?
SG: The idea for the short film came from driving from Fraserburgh, in Aberdeenshire, where I'm from and Glasgow, where I live now. I was passing rundown garages and roadside petrol stations and a lot of remote Scotland feels like midwest America and I had an idea that I would quite like to do a movie there, to explore a character and a journey through a landscape like that. But Scotland's not actually that big, you can get round it in a couple of days so I began to focus more on someone tied to a place like that, where the space around them felt very isolating and massive. And that is where the idea for the short came from. The short focuses on one moment in this girl's life and she's still there at end of the film.The relationship she has with her father in the feature is not in the short at all. He's old and dying in the short.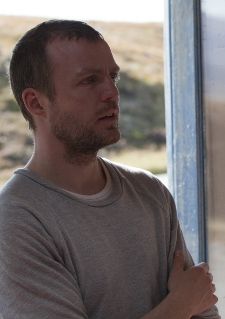 Really it's a sense of loyalty that's keeping her there. The world of the story and the sense of isolation, carried into the feature but the heart of the story, which is this complicated relationship between Shell and her father, that was the focus when I was writing the feature. I think it's more interesting for a character to be tied somewhere out of something that they want or think they want or something that they think they can give someone rather than just being loyal. A complicated relationship between a parent and a child that arose out of an absent parent was something I was more interested in exploring.
You shot the film in Dundonnell, near Ullapool?
SG: We ended up shoooting about 15 miles away from where we shot the short. We found somewhere that was nearby where we could build the garage from scratch. I think that was important. I wanted to be able to give the actors that experience of being there. We were an hour and a half from Inverness, that meant we couldn't shoot on film because we were so far from the lab. But shooting on digitale worked out better because there was so much night shooting. The sense of isloation - after a while it stops being creative and starts being something that you just have to endure and I think everyone experienced that up there. I think what you get from watching Shell is a sense of isolation, of loneliness, of two people surviving. I think it's a hard life up there and I hope that's communicated.
Did you do a lot of research regarding single-parent families.
SG: Some. Most of my friends have single parents, I'm from a single parent family. It's not uncommon to take on roles. If you're the child of a parent who doesn't really communicate what's wrong with them, you grow up observing and you learn about what you think your parent is missing. I don't think Shell's contemplated whether its right or wrong, the direction their relationship is going, she's just trying to give her father what she thinks he needs, which is his wife back.
Isn't she driven by her own desire?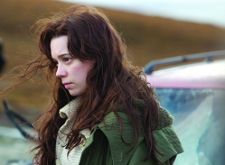 SG: That's where the conflict is. She's becoming a woman, she has the same longing that he has. In fact, Shell seems lonelier to me. She addresses loneliness in others without ever seeing it in herself.
How hard was it to cast the film?
SG: The challenge was to find Shell and build the cast around her, and to find two people who were believable as father and daughter. I saw Chloe in a short film called Solstice and her face just stuck with me. I was already writing. By then, the deer element, the themes to do with the deer were coming quite strong and Chloe has eyes that reminded me of a deer. When she read with Joe, I felt the film was there when we put them together.
Was it difficult to cast Joseph Mawle in the role of the father, he went a long way to help develop the role, learning to stalk and strip deer, for example?
SG: I think that's what the role needed and I knew that was how he worked. I think it's quite important to learn skills, the physical trade of whatever your character does, because it gives you something to focus on and so much of acting can be what's internal. I think if you have a skill in terms of what you can do, I think that's really helpful. Learning things about running a garage was really good and stripping the deer was really important.
How hard was it to shoot the scenes with the deer, particularly one that doesn't survive?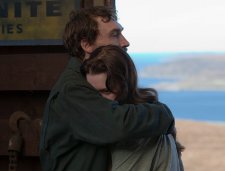 SG: There was a sedated deer and a dead deer. They were really difficult scenes - awful, actually, to do. Quite complicated and quite unpleasant. I think anyone who has spent time in that landscape, although its accepted that deer stalking goes on, it's still a very beautiful, very powerful animal. We had to close the road. We shot in the middle of the night so there was very little traffic but what traffic there is expects to to fly through there at 70 miles an hour.
It was really crucial to the story but it's not something I would rush to do again. The weight of it really hits you. As an artist you're really excited by these images and repelled by them but you get a sense if you step back for a moment of what you're putting people through. It wasn't easy for Joe to handle the animal in that way. It's physical difficult.
What's next for you?
SG: I have two more films that are set in Scotland that I want to make there. The landscape will be a character in all of them. My next film is thematically very different but it's set on Iona. I am drawn to a location like that. I think Scotland's rich enough to tell all kinds of stories. I'm not just making films about isolated placese because that's where I'm from or because that's all I have to tell. I tend to gravitate towards those kind of films from other countries anyway. It's a slightly bigger cast, I'm not even at first draft stage, so it's hard to say. It's more of a conflict to do with faith. It's thematically different.
Shell is released by Verve Pictures on March 15, for a full list of venues where the film is screening, visit the official site
Share this with others on...