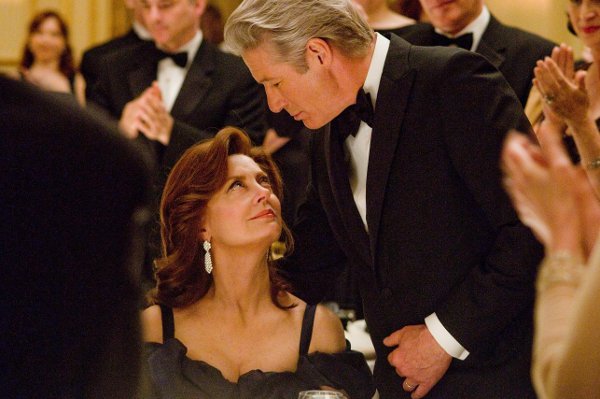 Nicholas Jarecki's makes his fiction debut this week with Arbitrage. Set in the world of hedge fund commodities it tells the story of Robert Miller (played by Richard Gere), a billionaire whose less than honest personal and business dealings are threatening to ruin him. The world of high finance is one with which Jarecki is certainly familiar, he is the son of American entrepreneur and philanthropist Henry Jarecki and former commodities trader Marjorie Heidsieck.
"It was the topic of some heated dinner conversations, " says the director. "Both my parents used to have offices in the World Trade Center, different offices, different companies, so I'd go and see one or other of them then they'd argue about what I'd been told about derivatives... "Your father doesn't understand a damn thing!", so it was very funny having business in the blood.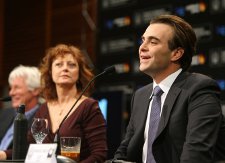 "But I learned about business myself - I had a computer company, so I went out trying to raise money and sell stuff. I used to be a door-to-door salesman long ago and once you've gone to try to sell something to 400 Chinese laundromats you're taught the definition of persistence.
"It's been a life-long fascination with business within my family and in myself, but really the origins came from reading about the financial crisis in 2008 and 2009 and the emergence of Bernie Madoff, this American swindler. I didn't want to make a Bernie Madoff film because I thought that would be too limited a character - you would grow tired of him because he was a simple sociopath. But in the Greek tragic tradition and the Shakespearean tradition, you take a character who's actually a good man, who's been a good man. You draw him as larger than life and you have him making a tragic mistake, which leads to his downfall. I think that's what Richard Gere played really well here. He's the ideal actor to do that because he has so much charm and confidence and charisma. I think he looks like he works on Wall St."
Jarecki gets round the limitations and confines of his paper crime plot by bolting the narrative to a much more human 'crime' that puts Miller on a collision course with Detective Bryer (Tim Roth). Jarecki says it was always his intention to keep things moving and show how the mighty can fall. He's interested in what he terms "the broader corruption", adding that "I think that was a thread running through the film "People doing the wrong things for the right reasons".
"There have been good movies about Wall Street - paper crimes and financial crimes," he said. "But what I like about films, I'm particularly into gangster movies, thrillers, psychological films and Seventies filmmaking. I like its grittiness, I like this more primal type of picture. So when I think of the hedge fund criminal, I want to see him getting crime-y. I wanted to see him with real blood on his hands and crawling out of situations.
"What's really going to happen when that man is brought down from his orbit. I don't want to give it away to the audience before they've seen the movie but the blood crime becomes this propulsive element to open up another system of justice towards this man. So now it's not just the Securities and Exchange Commission to contend with and the buyer of his company - the financial problems - there's Jimmy [Nate Parker] this kid he's going to get into terrible trouble, that he's supposed to be protecting, there's Tim Roth coming in as the real arm of justice who can close the cell doors. There's ruin or tragedy lurking there. There's also the psychological depth of what he's done and being able to look in the mirror at himself."
Although Jarecki had James Toback documentary The Outsider under his belt and had executive produced Toback's Tyson and Gregor Jordan's The Informers, it is impressive that he managed to get such a heavyweight cast, including Gere, Susan Sarandon and Tim Roth to take the ride with him on his debut fiction feature - but is the prospect of working with all those years of experience an exciting one or just a bit daunting?
"It's a little bit of both," he conceded, before quickly adding: "I've always had an irrational degree of confidence in myself, so I'm open for the challenge. I think it's like a sports game. Playing with the A players you rise your own game to your level, you don't worry about dragging you down you worry about coming up to them. They know that already because they've already done 40 movies. They know the thing is not to judge me but rather to say how can we help Nick guide us to the right place, how can we all make our movie together."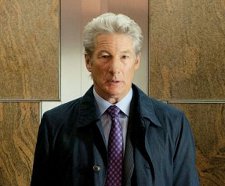 It can't have hurt that Sarandon and Gere had worked together before on romantic comedy drama Shall We Dance back in 2004 and, as the press conference at San Sebastian for Arbitrage showed, the two of them have an easy rapport and similar politics (read about that here).
"It was lovely that they had familiarity with each other, it made it a little like a family environment," said Jarecki. "What was great was they really trusted me and we did almost a month of rehearsal so during that period of time we were really able to get to know each other well and form some pretty deep relationships. I shot the film one and a half years ago and I maintain a personal relationship with almost every member of the cast.
"We really got in there and played with the text and rewrote the screenplay together and built up a high degree of trust. A good director's job is to create, to the extent he or she can, an environment where your collaborators feel free to take a risk. They don't feel that they're going to be judged or told it's a bad idea. It's a two-way street, so when you have these great actors who have a ton more experience than me, they're trusting me to see what I'm up to here. They gave me that trust because they liked the screenplay and they knew there was something there they could play."
You might think that being the son of commodities traders would mean it was easy to get the money together to make a movie but Jarecki says that's a long way from the truth - and the film got caught up in power struggles of its own resulting in not one but three lawsuits.
"It was tremendously difficult, it always is to raise money," he said. "I had a teacher who told me that the drama of the screenplay would play out in the drama of its production. This is a movie about financial crimes and people playing against each other cut-throat games - and you know I was the subject of three lawsuits during the production of this movie by people who claimed they wrote the screenplay, claimed we had some agreement, tried to sue and block the movie from being made.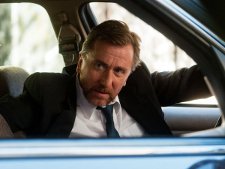 "I had a billionaire who told me he was putting up the financing, he turned out to have no money. I had to raise millions in three months. Anything that could wrong went wrong. I'm proud to say I won all the lawsuits unambiguously and that we lived to fight another day and the forces of evil were defeated and the movie was made. I feel a little like Robert Miller at the end, I wouldn't use any means necessary to fight my battles, but I'm glad they're over and we're still standing."
He's not just still standing but working hard on his next film. And while he says the "directing is the party to celebrate that you finished the script" he added: "Right now I'm just obsessed with my little thing, I'm on it and hopefully I can deliver it."
The 'it' in question is a fiction feature called Fuel, set in a futuristic world of electric vehicles.
"It's a detective story," he said. "I'm still writing it. I'm trying to find my way. I think a film really begins with a screenplay and you've got to have a solid story so I'm trying to work out all the angles of the personal story as well as the conspiracy, technology and electric cars. So again, I'm inspired by Seventies cinema, The Conversation and Chinatown.
"I love these kind of paranoid films about people and power and this type of thing. It's always a challenge to go back to the blank page and try to think through what it should be. You don't ever want to present something false to the audience - they know, they don't like it and I'm one of those audience members who it annoys when I'm shown something that insults my intelligence, I feel like I've wasted two hours of my life that I could have better used on a video game."
So we're back to power again?
"I like power, I like having it, I like using it, I like getting it I like taking it away from others," he said. "I think we all enjoy it and have a romantic notion that if we have it that we would apply it generously and with respect for our fellow man. Until we abuse it and then that's interesting, too, in how and when that happens. There's a theme there I'm into. I'm not quite sure why or where it's going to take me but I like it. It's fun, it makes for good movies with a lot of chills and twists."
If its twists you want, Arbitrage certainly has plenty of them - along with a knockout performance from Gere as its flawed anti-hero, who retains his charm even in his most despicable moments. The film is out in cinemas across the UK now.
Share this with others on...