Samuel L Jackson (Stephen) and Walton Goggins (Billy Chase) speaking about Candyland
All photos, except as individually credited: Getty Images for The Weinstein Company
Quentin Tarantino's Django Unchained is an opportunity to meet the best ensemble cast of 2012 into 2013. At a recent New York junket, Samuel L Jackson and Walton Goggins speak about Leonardo DiCaprio and the unspeakable goings on at Candyland, Kerry Washington and Jamie Foxx talk about their forbidden love story, Christoph Waltz explains mycology, and Don Johnson with Jonah Hill make it personal.
Jackson, supremely disguised, plays Stephen, aka Snowball, the trusted informant at Candyland, one of the worst plantations in 1858 Mississippi, two years antebellum. His performance drives a spike into the heart of the plan concocted by Dr King Schultz (Waltz) and Django (Foxx).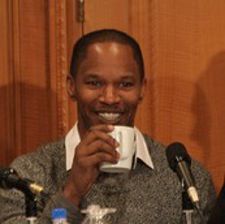 Samuel L Jackson: I'm the power behind the throne. When Quentin told me he wrote a western and wanted me to read Stephen, I complained about being 15 years too old to be Django. I was done with that. Then I read the script and called him back and said: So you want me to be the most despicable negro? Not only was that a great artistic opportunity to create something that was iconic and take what people know as Uncle Tom and turn it on its head in a powerful way. It also gave me an opportunity to do really nasty shit to the person who got the role that I wanted. Stephen has all the powers of the master, and literally is the master during the time when Calvin [Candie, Leonardo DiCaprio] is off [staging] Mandingo fighting. Everybody on that plantation knows him, and everybody fears him. We used to refer to him as the Basil Rathbone of the antebellum south.
Billy Crash (Walton Goggins) immediately took a disliking to Django riding onto Candyland a freeman, a symbol of a change coming, and showed his displeasure every chance he could. His world was going to be turned upside down and he sensed it.
Walton Goggins: The thing about poor white folks at that time is, there weren't a lot of opportunities. One was a job at a plantation and you could rise through the slave co-operation. And if you were smart, and I guess, ruthless enough, you could really rise to a position of power. And unfortunately that was at the expense of a lot of human beings. For me, it was about showing a person who had something to lose by Django being there. It was not just the colour of his skin, but it was also my way of life, economically speaking.
Jamie Foxx's Django becomes Siegfried, straight out of the German legend, and his arduous quest to rescue his "Broomhilda" (Kerry Washington) out of the "circle of hell fire" eventually leads him to Candyland, the notorious plantation ruled over by the devil.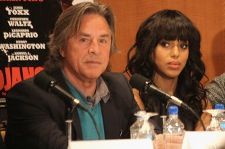 Kerry Washington: A lot of times people in the past may have felt nervous about playing a slave. So many of these narratives that we saw on television are about powerlessness. This is a film about a black man who finds his freedom and rescues his wife. He's an agent of his own power, he's a liberator and a hero and so there is nothing shameful about that. It's exciting and hopeful and fiery. I was very moved by the love story, particularly in a time in our American history when black people were not allowed to fall in love and get married. The thing that stands in the way of them being with each other is the institution of slavery. So Django is out to get his woman and he's got to take down slavery to get her. And, I told Quentin, I wanted to do this movie for my father because he grew up in a world where there were no black superheroes.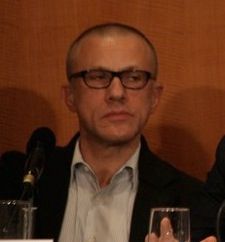 Jamie Foxx: When you see movies about slavery, we never get a chance to see the slave actually fight back. In this movie there's a lot of firsts. It's been a fantastic ride for us… I actually ride my own horse in the film. I got a horse about five or six years ago for my birthday. My horse, actually is in the film. What's interesting about my horse and Django is that they learn together. As my horse is learning tricks, Django is evolving as a person into this superhero. In the end, you see my horse Cheetah do this thing…
Samuel L. Jackson interrupts half-jokingly: The horse donut.
Jamie Foxx: Yes, that was the whole direction of the film to get my horse to do that. The thing that was scary was riding bareback.
Quentin Tarantino was enthusiastic about this scene with Jamie on the horse, without a saddle, which was one of his "top three favorite Django shots". Or, as he calls it: "You with a handful of mane and a rifle in the other - that was just damn Burt Reynolds Navajo Joe - Kabuki Navajo Joe in every way."
Dr King Schulz (Christoph Waltz) is a sharp-witted court jester, dental wagon and all.
Christoph Waltz (about not really reuniting with Tarantino after his Academy Award winning performance in Inglourious Basterds): There was no re-unification, and there was no working again. This is just another mushroom of the fungus that was growing subcutaneously all the time… I worked very hard and succeeded gloriously in falling off a horse, very early on in the training. And then my work was a little slower for a few months and then I got back up on the horse.
Jonah Hill (Bag Head #2) overjoyed to be there
After a brief introduction by Dr King Schultz of Tony and Fritz, Django and Dr. King's horses to plantation owner Big Daddy Bennett (Don Johnson), we learn what kind of "horse trading" Schultz has in mind for this slave owner. Here is where we begin to see what southern hospitality is all about.
Don Johnson: I looked at Big Daddy Bennett as a character fully engaged in his fiefdom.
Kerry Washington: We were shooting on an actual plantation in Louisiana. You felt like you were making the film on sacred ground.
Don Johnson: My dresser, who helped me get my costume every day found out that her ancestors were buried in the cemetery on the plantation.
Kerry Washington: And they were German!
Tarantino's western of the south has the Ku Klux Klan led by Big Daddy improvise with bags over their heads, instead of cone-shaped hoods, a choice that makes it difficult for them to see and ride at the same time. Birth of a nation turns into the theater of the absurd, with lynching men, resembling confused children at Halloween, bickering over the quality of their homemade costumes.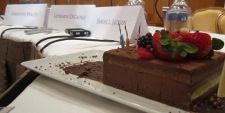 Jonah Hill (who spent two days on the set playing a character named Bag Head #2): I got in this business to work with great filmmakers. I don't care if he wants me to be an extra in this movie. I don't know what the fuck I'm doing here. I worked for two days on the film. It's kind of an ego stroke to even want me here. It was the weekend 'Moneyball' came out and Quentin asked to meet with me and I was overjoyed.
Kerry Washington sums up the importance of participating in Tarantino's pioneering epic, as we get to witness the birth of a new genre and are confronted with a violent American history that Hollywood fictions have previously not dared to tackle.
Kerry Washington: We had one background actor who was a pastor, who kind of paused everybody and said: We have to remember that we are the answer to these people's prayers. The people who did this work, dreamt of the day where you could not be property, but own property. Again, on that sacred ground, it forced everybody to shift, and man up, and own how kind of blessed we are to tell this story and not feel victimised by it.
At the end of the press conference, Samuel L. Jackson, Don Johnson, Jamie Foxx, and Jonah Hill, were celebrated with December birthday cakes.
Share this with others on...