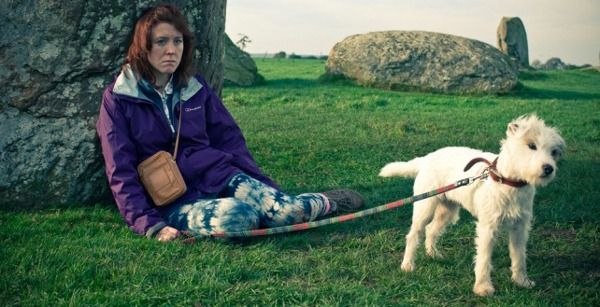 Ben Wheatley's latest film Sightseers is released across the UK today after a successful festival run that began in Cannes Directors' Fortnight and will continue into until at least January when it plays in Sundance's Spotlight section. Written by its co-stars Steve Oram and Alice Lowe (with some additional input from Alice Jump), it pursues many of the ideas familiar to Wheatley fans, mixing kitchen sink British reality and humour with altogether more murderous inclinations.
Oram and Lowe reprise characters they originally created for the stage - Tina, a stay-at-home shy sort who lives under the thumb of her harridan mother (Eileen Davis) and Chris, her bearded boyfriend who is planning to take her on trip full of romance and wild abandon, if he can just persuade her to leave with him in his caravan.
At a press screening of the film earlier this year, Wheatley, Oram and Lowe talked about their love affair with British holidays, the splicing together of their work and the thing that has a tendency to make 'staycations' so special - the British weather.
On the origins of the film and the characters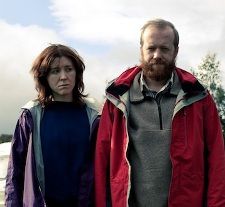 Steve Oram: it was exactly like what you see in the film, what happened in our childhoods. No. We really like British holidays, which we both went on a lot when we were kids. It was a lot of fun going to castles and stuff like that. We're both from the Midlands. So the idea for the film started as a bit of a joke, really. We thought it would be funny to have Brummies killing people and then going to castles. That just made us laugh and the rest is history, as they say - six years later it becomes a film.
Alice Lowe: It started off as a character comedy double act.
SO: We'd come on to stage with sandwiches and be talking about castles or whatever we'd visited, geeky stuff. Then talk about the disposal of a body in a layby or something. That was our act, basically. The rest is history.
AL: Are you going to keep saying that?
SO: Yes, it's my new catchphrase.
AL: We developed it as a TV idea but didn't get anywhere. All the TV channels said it was too dark originally as an idea for television. So we decided to develop it as a film. And we sent a short film taster to Edgar Wright and he said, I think there's a film in this and I'd like to produce it. He sent it to the producer he usually works with, Nira Park and she made our dreams come true...
SO: And the rest is history...
AL: Oh no.
Ben outlined how he came to be involved with the project
BW: I'd finished Down Terrace and I a meeting with Nira and she said I've got a script for you if you want to do it. She said it was with these guys and I'd worked with Steve and Alic before on some other TV work. So I was like, of course, that's great. I knew I was going to do Kill List next, that was about to go into production, and I knew it was going to be really horrible and depressing so I wanted to do something that was a comedy afterwards. So it made total sense, this project. And the rest... [dramatic pause] the things that go with that
On the script and collaborating with Oram and Lowe.
BW:
One of the main things that was really appealing about the script was working with Alice and Steve, knowing that they'd written the script and that they had a long background in improvisation. I wanted to do something that was really loose like that. And it was an interesting concept of working with the writer/performers with improvisation. To get to that level of knowledge about the characters you'd have to workshop forever.
One of the things that attracted me to the script was that it fitted with the other movies that I'd done, so it kind of was a progression of those kinds of characters. I don't know where the need to do genre stuff comes from particularly. It's the kind of movies that I like. I generally try to make the kind of movies that I want to go and see. Movies that are a bit more challenging. This is slightly less narratively challenging than Kill List but it's still quite a quirky movie for a comedy.
So, given the murderous tendencies of their characters, did Oram and Lowe have a hit list when they began working on the script?
AL: We did actually go on a camping trip together as research, in a caravan for a week. And I guess we picked who annoyed us most. We did a lot of research on camping and on what annoys people on campsites, quite often children playing ball games – there's a huge debate in the caravan world on whether children should be allowed to play ball games or not.
SO: They shouldn't you know
BW: I'm glad we cut the lengthy child murdering scene.
The tone of the film - like Wheatley's previous work - mixes comedy in with more macabre subject matter. How easy is it to balance the two?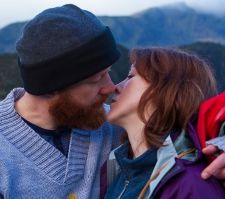 BW: It's to do with rooting the whole thing in some kind of reality rather than making it too arch either way, so you have that balance. If the audience are with them, and believe they're real then the move between the violence and back to the comedy doesn't seem so out of sorts. If it has a really comic tone and it goes really horribly violent, you'd struggle to get back. It's also not doing too much of it and not being too malicious. I felt that with the rambler, when they smash his head in, it's one of those moments where you kind of have to see it. If you don't show it, morally you're letting them off the hook, then it's like comedy vioence where they've just killed a guy and they don't care, so the filmmakers don't care, the audience doesn't care - there's something not right. You have to pull it back and say this is the action, this is the consequence of it and you're laughing at it and you're slightly responsible for it as well. If you didn't show it it would feel glib.
AL: You have to care about the relationship. Really, the whole film is the story of the journey of the relationship. The killings are almost a metaphor for the trials they go through. We just really wanted people to identify with the experience of going on holiday and having a quarrel with your wife or boyfriend or whatever. We knew if we didn't crack that it would not be watchable. You have to have some sort of identification with the characters to be able to stick with it with them as anti-heroes.
On the locations:
BW: We really tried hard to treat all these places with respect. The Pencil Museum is not a joke to me. I like it. I think it's brilliant and a fascinating place. With the tram museum, it was really important not to take the piss. It's more how their characters react to the places.
SO: It comes from a place of genuine affection for all these places.
AL: I hope more people visit these places, but also maybe more people film in these places as well. It blows your mind, you think why isn't this in film more.
SO: Crich Tram Museum in the Matrix or something?
AL: Yeah, I'm absolutely ready to see that film. Tron but with trams
BW: Trons.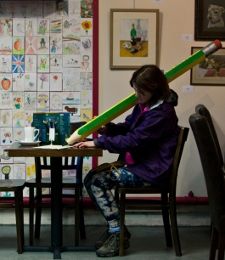 Following in the pawprints of The Artist's Uggie is the scene-stealing four-legged character Banjo. Smurf, the dog who plays him, trotted off with the Palm Dog at Cannes. But given some of the things he goes through in the film, did he also need therap?
BW: The pivotal scene of Smurf licking Steve's arse was achieved through special effects. We didn't want to put either of them through it and I didn't want to watch it. He wasn't psychologically harmed in any way. He won at Cannes. We came away form Cannes with a prize... which is what we all dreamed of.
Of course, no discussion of shooting in Britain could be complete without a discussion of the weather, especially given that they were shooting at altitude in the Peak District in October.
BW: The main thing with location was the weather. It was really cold. It rained a lot, snowed, sleet… every kind of weather but I think that just makes it more realistic
AL: The advantage of that is that weren't many tourists. It was quite nice when you've got rain and hail in your face when you're trying to act. It does help you with feeling agonised and upset in certain scenes. Luckily our costumes were cagoules, so I've never been so comfortably dressed for filming outside. Normally you're in a ridiculous flimsy item but we were in hiking gear.
BW: I tend to shoot really, really quick, so you don't get the problem you might get on a traditional film where you shoot one way and it's sunny then you shoot the other way and its pissing down with rain and they won't cut together. We shoot so fast you can actually incorporate the weather into it. One man's weather is another man's production value is how we looked at it. To create this sleet would have cost a fortune... but we've got it for free. If you make a movie in the UK, you've got to embrace the weather with open arms.
And the rest, as Oram would no doubt say, is history.
Share this with others on...