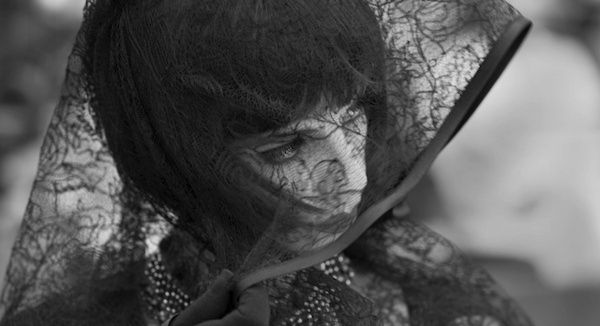 The tail end of a tropical storm blew through San Sebastian this week bringing not much in the way of rain but the mother lode in terms of wind. I and a few others watched dolefully as frantic staff in the festival's Keler Tent (or Post-Film Free Beer Heaven as I have come to think of it) held onto the poles of the tented roof to stop it blowing away. It wasn't long before the firemen turned up and dismantled it... hoping that's not the last we'll see of its sweet, beery face.
There has been plenty of drama on the big screen too - although much of it in the past couple of days has been of the tense emotional sort. Michael Haneke's drama Amour lives and dies by the strength of its two leads. French veterans Jean-Louis Trintignant and Emmanuelle Riva play Georges and Anne, an elderly couple leading the sort of comfortable old age that most of us probably aspire to. When Anne is struck by a debilitating illness for which the only prognosis is decline, the pair find themselves descending into the sort of situation that most of us probably have nightmares about. It's a simple story, certainly, and one that has a predictability but it is so well executed, both in terms of acting and directorial craft that it's hard not to fall in love with it.
Throughout the runtime the couple's love and fear vie for attention as their enviable world begins to disintegrate around them. Haneke never shies away from the ravages of Anne's illness, both physical and mental, avoiding the bear trap of presenting 'old age and disease lite', so that her slow exit from the world will strike a chord with anyone who has watched an elderly loved one slip anything but gently into that good night.
If Haneke's drama follows a traditional narrative sweep, then Carlos Reygadas' latest conundrum of a film is at the other end of the spectrum. If you think the title Post Tenebras Lux is impenetrable enough - wait till you see the movie that lies behind it. It means After Darkness, Light, but you're likely to be feeling left in the murk by the end of the runtime. In fact, you may well wish that you could turn out the projectionist's light somewhat sooner.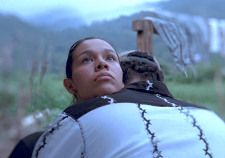 It's a shame because the film features a beautiful opening sequence in which we see - through a lens that offers a kaleidoscopic distortion affect at its edges - the director's daughter Rut playing in a field with some dogs at dusk. It has an immediacy, simplicity and beauty that are sadly not replicated elsewhere in the film. Rut's childhood play gives way to the partially animated scene of what I assumed to be a satyr (he's seen as a solid red silhouette) moving through a house with an ominous looking doctor's bag before invading the room of a sleeping couple as their young son looks on in silence.
Satyrs of mythology are known for their lack of general restraint and licentiousness and lasciviousness, and it's possible that he represents the distillation of manhood-without-restraint that Reygadas goes on to show. From the pack mentality of British schoolboys playing rugby, to thievery, alcoholism, sexual abandonment and a propensity to violence, this is a study of men in all their worst aspects. There are moments of intrigue and, as always with Reygadas, some fascinatingly shot scenes, but it never really coalesces into more than a dream-like study of masculine failings.
But if it's a evil female you're looking for - and a few more laughs - then Blancanieves is for you. The third adaptation of the Brothers Grimm story Snow White this year, after Mirror Mirror and Snow White And The Huntsman, gives it a stylish black and white, silent twist. The film is an inventive take on the tale that transports the action to Spain of the 1920s, where tragedy strikes little Carmencita (Sofia Oria) even before she is born. As her pregnant mother watches on, her toreador father (Daniel Giménez Cacho) is badly injured in the bullring, prompting Carmencita's early entrance into the world and her mum's early exit.
Tragedy strikes a second time some years later and she - and her trusty cockerel Pepe - find themselves living in the coal store (and chicken coop) of her now-paralysed father's house, while her sadistic stepmother (Maribel Verdú) treats them all as inhumanely as possible. Eventually, of course, her stepmother plots her demise and it is as she is left for dead in the woods that she comes to be found by a travelling troupe of dwarf bullfighters. Taking her in, they discover that matador skill runs in the blood as Carmen - now renamed Snow White "like in the fairy tale" for publicity purposes - proves she can handle herself with the bull calves tackled by her rescuers. But now she has two enemies instead of one...
While an S&M aspect to the stepmother brings unwelcome shades of grey to what would otherwise be a great family film, youngsters will love Alfonso Vilallonga's scoring - with its clarinet 'theme' for Pepe - bringing shades of Peter And The Wolf to the party.
Share this with others on...